Thank you to all our participants, donors, volunteers, and sponsors of the 21st Annual #BuddyFestNW!
It is your contributions that this meaningful celebration was possible! Click below if you would still like to support this event and our mission to create and nurture a loving and inclusive society for all people experiencing disability including Down syndrome!
Thank you to everyone who joined us and supported the 21st Annual #BuddyFestNW celebrating the extra 21st chromosome on September 21, 2019! What a grand day of community and disability pride! Save the date for next year -- September 19, 2020!
SATURDAY, SEPTEMBER 21st
10am-1:30pm
Moda Center Commons
Register online by Sept. 19th
Registration Fees:
Adult 18 & Up:  $15
Child 4 thru 17:  $10
Age 3 & under: Free!
Let's celebrate Down syndrome and the strength of our community while supporting the dreams and possibiilites of people experiencing Down syndrome! Registration includes a 2019 Buddy Fest NW t-shirt, an accessible walk, food & drink, and all the fun we can pack into a festival!  Online registration is available until noon on Sept. 19th.  Please register online to avoid long lines the day of Buddy Fest NW.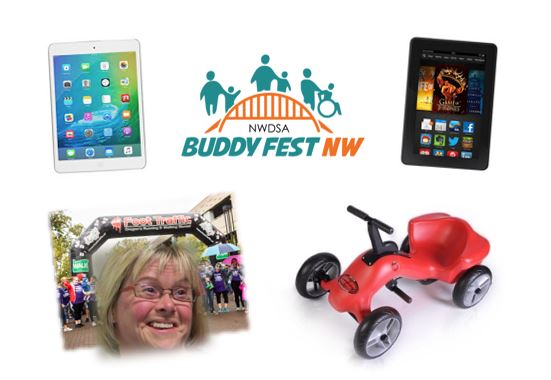 Donations received by Sept. 19th qualify for these prizes (awarded at the walk)
Teams raising $3,500 or more earn an iPad Mini!
Teams raising $1,500-$3,499 earn a Kindle Fire!
In addition: 
Our top fundraising team will earn a photo opportunity with keynote speaker, Karen Gaffney, and the opportunity to kick off our accessible walk!
Our top individual fundraiser will earn a Pumper Car!
What you provide when you support Buddy Fest NW!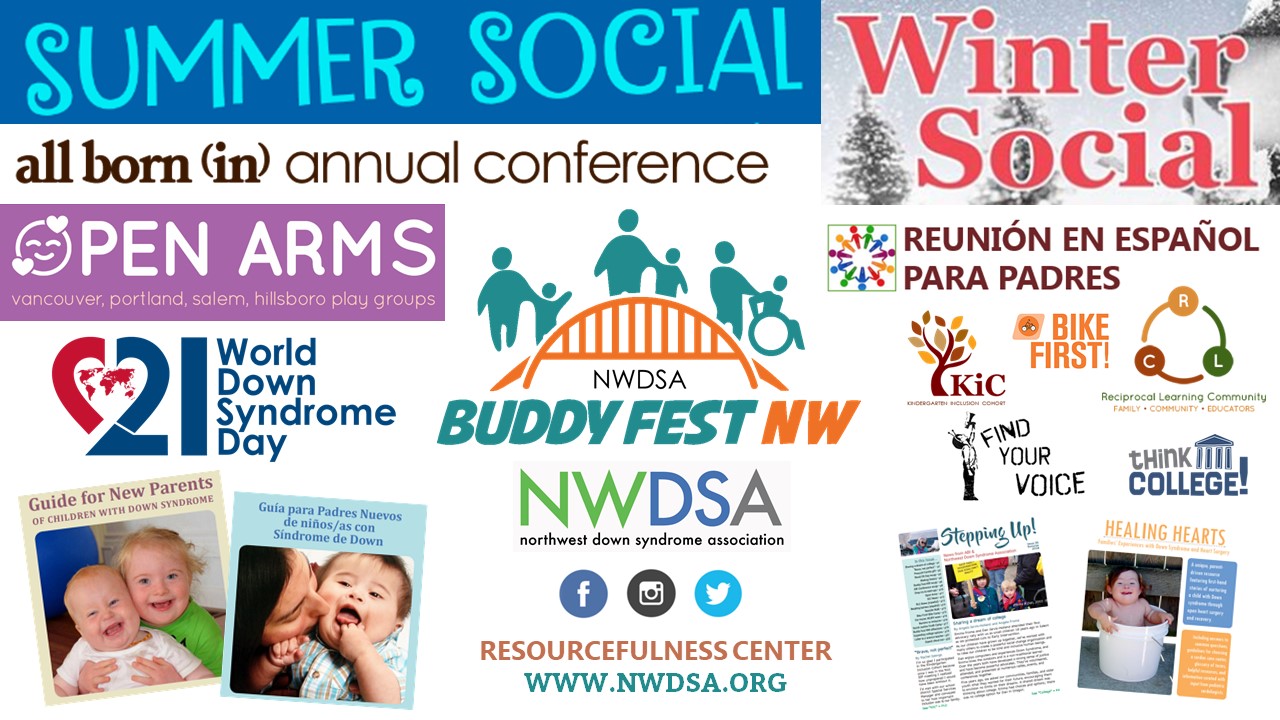 Funds Raised at Buddy Fest NW help empower and support families and individuals, connect new parents to the community, increase education and promote public understanding and acceptance, increase competence of professionals, work toward full inclusion, and defend the civil rights of individuals with disabilities.  Key programs and activities, offered in English and Spanish, include:
New Parent Outreach and Ongoing Support
Healing Hearts Booklets
Open Arms Playgroups (Portland, Vancouver, Hillsboro, and Salem)
Winter and Summer Socials
Medical and Genetic Outreach
Social Justice Youth Program
Parent and Self-Advocacy
Reciprocal Learning Community Workshops and other community training opportunities
Resourcefulness Center Access and Drop-in Hours
Event Calendar, Newsletters,  and Website
Community Partnership and Education
World Down Syndrome Day Celebration
Sponsorship of Buddy Fest NW supports local families who work to create full inclusive lives for their children with Down syndrome. Your sponsorship makes this meaningful day possible and supports our work valuing relationships, social justice, equity, diversity, and self-determination. Buddy Fest NW includes and seeks help with:
Community Celebration
Accessible Walk
New Parent Connections
Keynote Speakers 
Music
Games
Bounce Houses
Character Appearances
Face Painters
Balloon Artists
Photo Opportunities
Food and Refreshment
Festival T-shirt
Silent Auction & Raffle
Down Syndrome Pride
Our Keynote Speaker is....
Local Advocate and Leader, Karen Gaffney!

Karen is dedicated to championing the journey to full inclusion in families, schools, the workplace and the community for people with developmental disabilities. She is doing this by creating awareness and calling attention to the tremendous capabilities of people with disabilities. Karen has presented in front of schools, universities, businesses, Down syndrome support conferences, state legislatures, and in foreign countries including Singapore, Malaysia, Canada, Ireland and more and we are thankful Karen is able to join us!
Entertainment provided by...
Emcee Tony Starlight!!!
Tony Starlight returns for his 9th year as Buddy Fest NW emcee!  He adds such joy, wit, and charm to the day and we appreciate him so much! Tony is a performer and venue owner who's been entertaining Portland and beyond with music and comedy for over 20 years.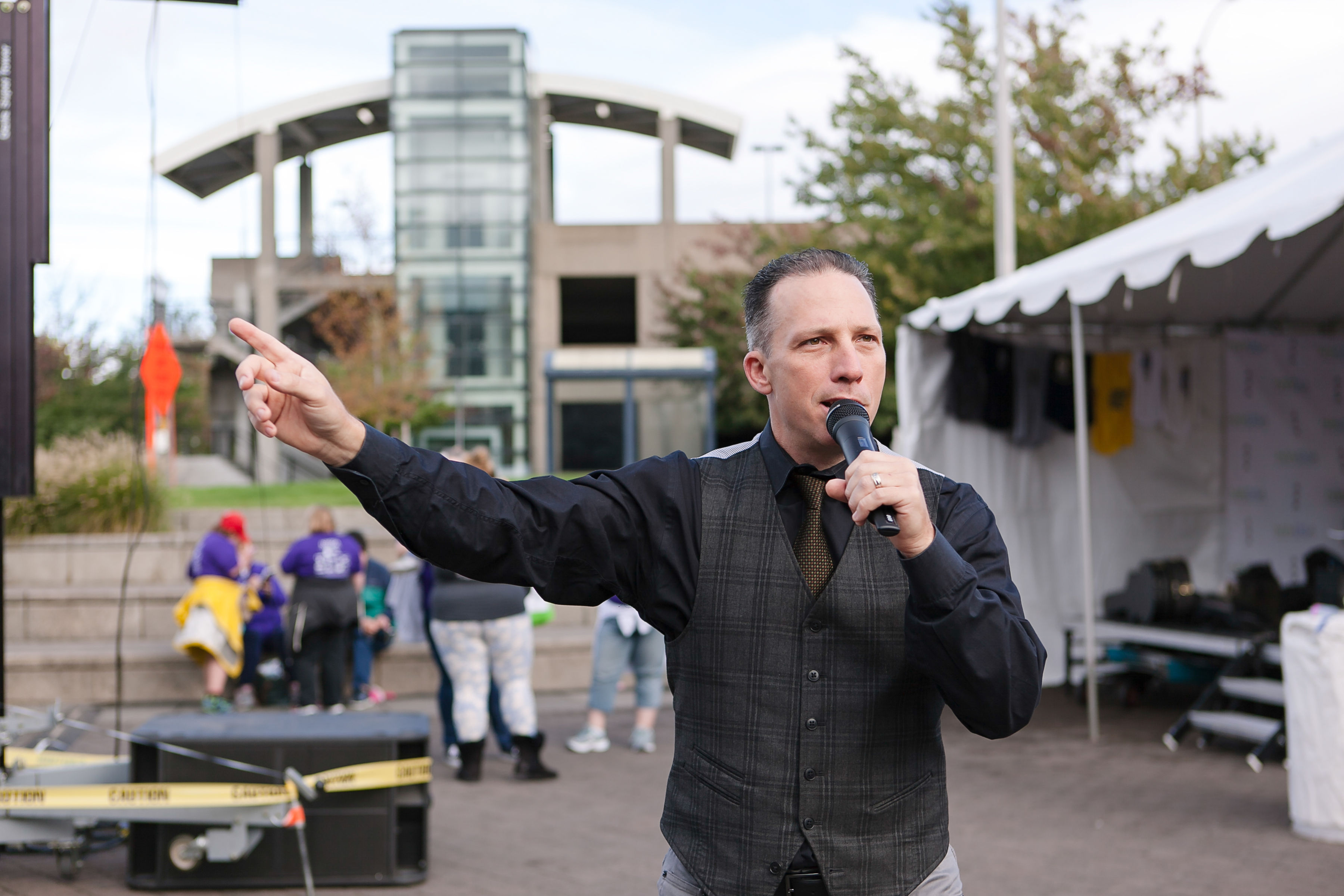 Wallace!!!
Wallace is on a mission to move us! A collection of Portland's most stalwart musicians including long time NWDSA supporter, Newell Briggs, have combined forces to share singer/songwriter Erin Wallace's new independent project. Wallace's brand of rock, soul, blues and pop-influence lyricism is guaranteed to shake the shack and raise the roof! Wallace celebrates with us for the second year!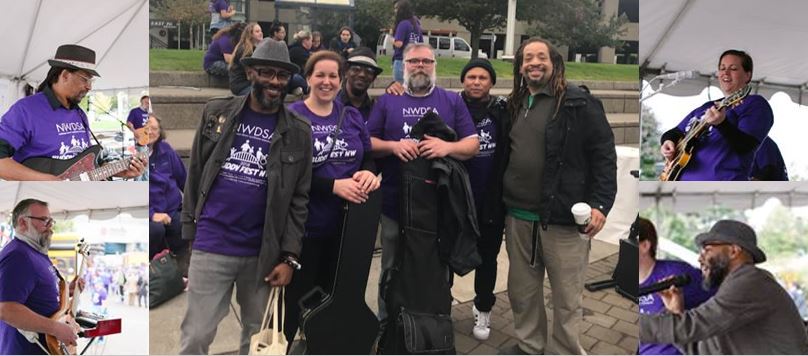 Happenstance
Sweet Adelines International registered quartet with a repertoire spanning traditional barbershop, jazz, swing, and pop!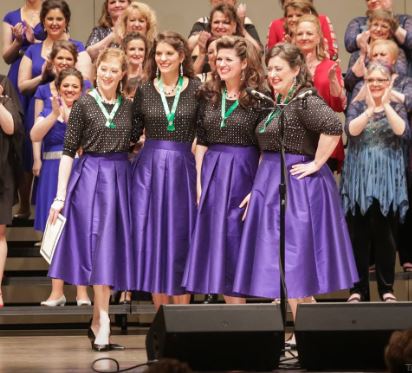 facebook.com/happenstancequartet/
PDX Bubble Boys
"Spreading Smiles throughout the World, One Bubble at a Time"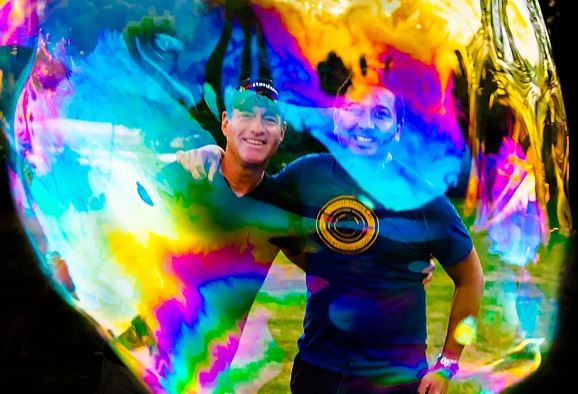 Buddy Fest NW raises Down syndrome awareness in 2018
Help Us Reach Our Goal!
0
days
0
hours
0
mins
0
secs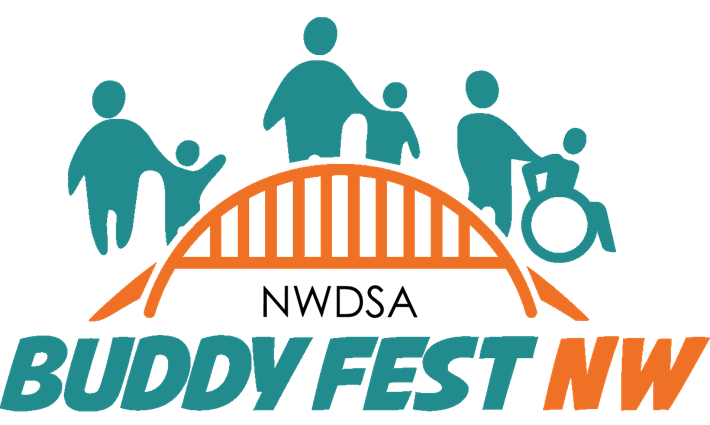 Buddy Fest NW promotes acceptance and inclusion of all people with Down syndrome. The walk brings together participants from Portland metro and SW Washington – family members, friends, professionals, community leaders and individuals with Down syndrome.
NWDSA's mission is to create and nurture a loving and inclusive community celebrating every individual with a disability, including Down syndrome.
October is Down Syndrome Awareness Month. We invite you to share your knowledge of the potential of individuals with Down syndrome with others in your community.
Day of Schedule
| | |
| --- | --- |
| 10:00 AM | Registration Opens and Festival Begins |
| 10:45 AM | Special Performance |
| 11:00 AM | Welcome, Speakers, and Thank you's |
| 11:35 AM | Group Photo |
| 11:45 AM | Accessible Walk Begins |
| 12:00 PM | Music and Food Service Begins |
| 12:15 PM | Youngest Baby Boy and Girl Announced |
| 12:30 PM | First Half of Raffles Announced |
| 12:45 PM | Second Half of Raffles Announced |
| 1:00 PM | Silent Auction Closes |
| 1:30 PM | Buddy Fest Wraps Up |
Parking Pass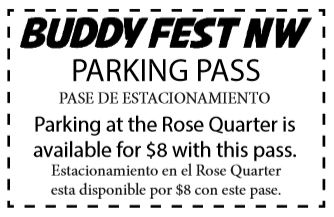 This parking pass will be required for discount parking until 1pm the day of Buddy Fest.  Printable PDF available in downloads section below. 
A huge THANK YOU to Team Bullwinkles for their FIRST PLACE fundraising efforts last year!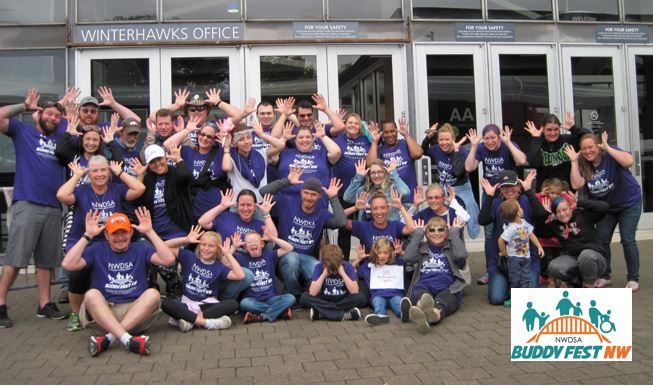 2018 Top Teams
Way to go teams! Thank you!!!
Team Bullwinkles
Dan's Vikings
Soleyl's Bright Shine
Archer's Team
Team Olav
2018 Top Individual Fundraisers

Way to go fundraisers! Thank you!!!
Eric Cerdena
Shannon Larissey
JD Scobba
Donovan Smith
Lorraine Daily
Our Newest Participants
Hannah Bacab Huntley

Franklin Bacab Dzul

Dallas Miller

John Anderson
View All
The 21st Annual Buddy Fest NW supports a variety of programs offered or supported by the Northwest Down Syndrome Association. Thank you to all of our supporters. Our work would not be possible without YOU!