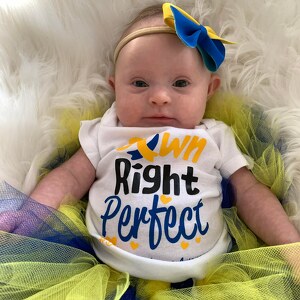 Love for Lyla
Love for Lyla
This year for World Down Syndrome Day we decided to do a fundraiser in awareness and acceptance of those with Down Syndrome. Donate if you can. And please share!! Let's hit our goal of $500 raised!!
Our Story
When Lyla was born on December 24th, 2020- we were shocked to learn of her secret that she'd been keeping for 9 months!!! Her extra chromosome that is! Yes, we had a birth diagnosis of Down syndrome. And although it was scary and not something we ever imagined, we've made it our focus to shift the views on Down syndrome and people with DS by creating awareness. 
Lyla is happy, healthy and full of love (and sass)! We wouldn't change her or her extra chromosome if we could. 
Join us in creating awareness, acceptance and love for the Down syndrome community.
Our Supporters
Ashley Bowerman

Aloette Mystery Hostess Party

April 2022

$185.00

Lori Moggy

March 2022

$50.00

Anonymous

T-shirt sales

March 2022

$235.00

Joan Mcmurray

March 2022

$500.00

Anonymous

T-Shirt Sales

March 2022

$150.00
Joan Mcmurray

March 2022

$500.00

Anonymous

T-shirt sales

March 2022

$235.00

Ashley Bowerman

Aloette Mystery Hostess Party

April 2022

$185.00

Anonymous

T-Shirt Sales

March 2022

$150.00

Aloette of Oakville

February 2022

$100.00