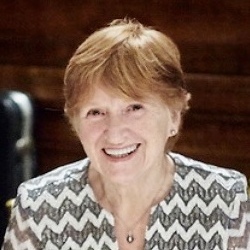 In loving memory of Suzanne Bonté
Suzy's Story
A devoted wife, mother and friend, Suzy was a spirited and fearless woman.  A proud native of Brittany, France, Suzy grew up on a farm and endured the German occupation during World War II.  Her childhood was fraught with hardship: her eldest brother was killed fighting for the Resistance and she lost her mother and two siblings at the age of 6.  She was raised by her loving father, a World War I veteran, along with her two older brothers.
Like many of her generation, she emigrated to the United States in search of a better life and landed in her beloved New York City in 1961.  She always said "I did not come to America to make money, I came to become an American", which she proudly did many years later.
She lived in Hell's Kitchen, in a small apartment which she loved because it was hers alone.  Working as a bartender on the West Side at La Fleur de Lys restaurant was perhaps her favorite job.  Not speaking English was sometimes a challenge, especially when someone once ordered a shrimp cocktail and to her great relief, she learned that came from the kitchen!  She met all the journalists from ABC News nearby:  Peter Jennings, Bill Beutel and Roger Grimsby among them and she remained a loyal viewer of "Channel 7" until the end.  She met many celebrities at the height of the Mad Men days of the sixties such as Tennessee Williams, Harry Belafonte and many others and she loved to witness "the action".
One day, the striking redhead met Maurice, a handsome black-haired, blue-eyed man who walked in after his job.  They were married a year later in a very intimate ceremony followed by a dinner at La Grenouille. 
They moved back to France two years after marrying, but New York was now their home and 6 months later, Suzy was back in the city she so loved.   She returned to work at La Fleur de Lys until a month before giving birth and stayed at home in Queens to raise her daughter Caroline, for several years until she and Maurice opened Pâtisserie Bonté on Manhattan's Upper East Side in 1974.  She worked 12 to 14 hour days , six days a week for 25 years, alongside her husband building a loyal clientele she genuinely cherished.  She remembered everyone's favorite pastry or cookie or cake, everyone's face and everyone's story.  She truly loved people.  On their annual trips to Europe to visit relatives in France, "Madame Bonté" was frequently delighted to be recognized by her NYC customers also traveling abroad. 
The Bontés' daughter was schooled in the neighborhood of the bakery, where she frequently assisted her family during the holiday rush.  The Bonté family purchased a weekend home Putnam County, NY. in 1976 where they enjoyed their Sunday off with their daughter.  When their bakery closed in 1999, they spent their days between the lake house and Queens because Suzy could never let go of the city she loved so much.
Suzy started showing troubling symptoms the summer of 2020 and was seen by several specialists as her symptoms evolved.  She was diagnosed with probable Creutzfeldt-Jakob Disease (CJD), a rare, rapidly-progressing neurodegenerative disorder in May 2021.  She was cared for at home by her devoted husband and daughter, but ultimately moved to Artis Senior Living, a memory care facility in Briarcliff Manor, NY in February 2022 when her condition worsened.  She received exceptional care from devoted staff who preserved her dignity until the end.
The generous and benevolent Suzy had always expressed interest in donating her body to science and we are hoping that the results of her autopsy will help further research to combat this devastating disease.
The CJD Foundation was instrumental in providing ressources to the family to help guide them through the progression of the illness and is grateful for the CJD Foundation's continued efforts to promote awareness and research to an underfunded disease.  Her family wishes to financially support research to better understand CJD, for which there is currently no known cure or treatment.
* an update: on December 9th, 2022, we received the autopsy results for Suzy. The final diagnosis was: Sporadic Creutzfeldt-Jakob disease (MV2). Thankfully this was neither genetic nor acquired (food related).
Donate now * Faites un don
My Supporters
Maurice Bonte

I miss you and love you. - Maurice

4 hours ago

Caroline Bonté

We miss you every day, Mom. Love, Caroline

4 hours ago

Suzanne Sunkel

9 hours ago

$53.00

Ray & Carolyn Lang

May this contribution in memory of an exceptional lady help other families.

January 2023

Maurice Bonte

For my beloved wife

December 2022
Marc Milic

December 2022

$2,000.00

Societe Culinaire Philanthropique

All your friends and family at the Société Culinaire Philanthropique are forever grateful to have known you. You were a light in everyone's life. May you rest in peace, Suzy. Your Family at the Société Culinaire.

October 2022

$1,060.00

Maryvonne/André Soltner

To our dear friend Suzy, with all our affection for your « grand voyage » Maryvonne et André

October 2022

$1,000.00

Charles Hesdorffer

In memory of a wonderful woman who was like a mother to me when I needed encouragement and support after I immigrated to the US. She always remained a great friend to both my wife, Mary, and I. May she Rest In Peace.

October 2022

$1,000.00

Glenn W. Dopf

Dear Caroline, Thank you for allowing me to contribute to your Mom's fund. The mission of this organization is wonderful. You are truly an amazing daughter! Glenn

December 2022

$530.00