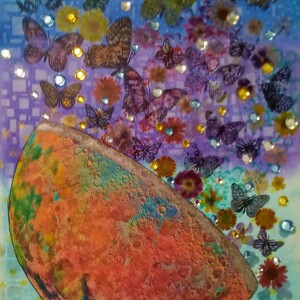 My Writing Goals
OUTLINE A NOVEL!   Join me on my breathless attempt to actually plot a 100k word novel rather than pants it out. Will I succeed? Will I fall on my (haha) pants?  Even I don't know!
The project is CHANGES, a Clarion West 2010 short story (written during the Ellen Datlow week) that is honestly a novel first chapter. I have reached out the development editor Rebecca Inch-Patridge for advice and guidance and I fully expect this story to sizzle off the page. Maybe literally: it is set in Los Angeles during Fire Season. 
GINAMARIE (Ginmar) is a werewolf being hounded (haha) by the utterly incompetent Van Helsings, who are not associated with or even aware of the multitude of other Van Helsing societies. Because of their bumbling she has been targeted by the UM Group, a much more competent agency that wants her skills for their nefarious purposes. And all Ginmar wants is to live peacefully with her cats and occasionally worship the moon. That, and to figure out why, in her dreams, she has wings. 
I don't get the money you donate but it does benefit Clarion West. I attended in 2010 and met amazing authors among my coworkshoppers (Mike Alexander, KC Ball, Zander Odell, Cassandra Clarke, Jack Graham, among others) and industry professionals that tutored me up and polished me down. 
Support this good cause and encourage my novelling. 
Thank you.
(that profile is a piece of art that I created for the new cover of my first collection, GLORIOUS MADNESS.  My second collection, WHAT HAPPENS NEXT, is also available on Amazon.)
Writing Sample/Progress/Updates/Write-a-thon Blog
Methodology
By Jude-Marie Green
    "For christ's sakes." I shrugged my irritation away. "Let's try it again."
    Moody sat on the cold sidewalk, the denuded flower stalk in his hand, a tear in his eye.
    "She doesn't love me!"
    I handed him another daisy, yellow and fresh-snipped from the decorative hedge behind us.
    "Like this." I held up my own daisy, slightly damp with - no, not dew, not here, but water from the sprinklers. I pulled a petal from the flower.
    "She loves me."
    I pulled out another petal.
    "She adores me."
    Another.
    "She thinks the world of me." Pluck. "She's never known anyone as smart as me." Pluck. "She loves me." Pluck. "She knows that I love her." Pluck. "I love her." Pluck. "She loves me."
    A drift of petals decorated my left shoe. I kicked them away.
    "You see," I told him, my friend, the newly-hopeful Moody, "love is what you make it."
The End
Just a little doggerel, a poem, an ode (actually probably none of these, I'm not up on poemics) about the dog in my house.
DRAWING LILLY
If I could draw that dog I'd
limn her sweet and straight,
Eyes waiting always waiting
For a scritch or a pat or a
GOOD DOG
Pyramid ears while playing
Purse ears relaxing
Right paw on my arm, making contact
Be with me, see me, I'm a
GOOD GIRL
Shed hair on every surface
Wafting through the air
I'm sneezing and she's shaking out
Flechettes of fur everywhere and 
Because it's Lilly, it's
GOOD
Publications List
I've sold a lot of short fiction  Here's the list I just put together to join SFWA: (it's not close to exhaustive. I was, after I put together this list.)
| | | |
| --- | --- | --- |
| MOTHMAN IN LOVE | Fantasy | GEEK OUT! |
| MISTAKES WERE MADE | Science Fiction | ALLEGORY |
| AFTER SHADOWFALL | Science Fiction | THE MARTIAN WAVE |
| BRICK | Science Fiction | FLASH POINT SF |
| STONE SOUP | Science Fiction | TYPEHOUSE |
| CEDAR | Fantasy | THE COLORED LENS |
| ROCK PAPER SCISSORS GLASS | Science Fiction | DAILY SCIENCE FICTION |
| JASMINE SPAIN | Science Fiction | TOASTED CAKE |
| THE LAY OF THE LAND | Fantasy | BARDS AND SAGES |
| NOT ALL WHO WANDER ARE LOST | Science Fiction | PERIHELION |
| MIRACLES WROUGHT BEFORE YOUR EYES | Fantasy | THE COLORED LENS |
| QUANTUM ROSE | Science Fiction | PERIHELION |
| A SUPERLATIVE FOR GOODBYE | Science Fiction | JAMES GUNN'S AD ASTRA |
| QUEEN OF THE DEATH SCENES | Fantasy | Reel Dark |
| JOY RIDE | Science Fiction | PERIHELION |
| SPARROW AND G.D:SHRIKE | Science Fiction | STRANGE CONSTELLATIONS |
| MORNING GLORIES | Science Fiction | PERIHELION |
| A THREE PERCENT CHANCE HE'LL EVER KNOW I LIED | Fantasy | PENUMBRA |
| SISTERS | Fantasy | THE COLORED LENS |
| FAR FAR FROM LAND | Science Fiction | Menial: Skilled Labor in Science Fiction |
| SHIVER | Science Fiction | M-BRANE |
| GLORIOUS MADNESS | Fantasy | FANTASTIQUE UNFETTERED |
| DANCING ON THE CORPSE OF THE WORLD | Fantasy | Ruins Metropolis/Hadley Rille |
| HULA HOOP | Fantasy | RAVEN ELECTRICK |
| WHAT HAPPENS NEXT | Fantasy | IDEOMANCER |
| WEAPONS OF MASS DESTRUCTION | Science Fiction | DESOLATE PLACES |
| IN THE SEASON OF BLUE STORMS | Science Fiction | ABYSS&APEX |
0
days
0
hours
0
mins
0
secs
My Supporters
K.G. Anderson

July 2022

$25.00

Jude-Marie Green

June 2022

$25.00
K.G. Anderson

July 2022

$25.00

Jude-Marie Green

June 2022

$25.00