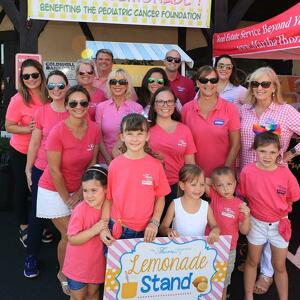 The Thorn Collection 7th Annual Lemonade Stand
Join us for our 7th annual lemonade stand on Thursday, September 24, 2020 from 4-6pm
Let's end childhood cancer together!
Come by our office to support our event and donate to help raise funds for pediatric cancer research. All of the proceeds will be donated to the National Pediatric Cancer Foundation.  If you cannot be here in person please donate online to help us find a faster cure for pediatric cancer. Your contributions and support are greatly appreciated! 
Donate $100 or above to receive an NPCF face mask
(see image below)
About the National Pediatric Cancer Foundation: 
The National Pediatric Cancer Foundation (NPCF) collaborates with leading hospitals across the nation to fund clinical trials to find faster cures specifically for pediatric cancer. Since 1991, the NPCF has been a shining light for children fighting cancer by donating millions of dollars to research. The clinical trials we've funded are yielding amazing discoveries and the advancements are saving children's lives.
Our Supporters
David Berolzheimer Foundation

3 weeks ago

$5,000.00

Kurt & Jenny Listug

5 weeks ago

Kathryn Helmus

In memory of Elizabeth DiRicco and Gracie Purdy. Two beautiful angels that fought the good fight! :):)

5 weeks ago

$1,039.50

suzan ross

Last month

$103.95

David Alexander

Last month

$103.95
David Berolzheimer Foundation

3 weeks ago

$5,000.00

Kathryn Helmus

In memory of Elizabeth DiRicco and Gracie Purdy. Two beautiful angels that fought the good fight! :):)

5 weeks ago

$1,039.50

Gary & Nikki Ubaldini

Last month

$1,000.00

Sara Borger

Last month

$1,000.00

Anonymous

Last month

$1,000.00