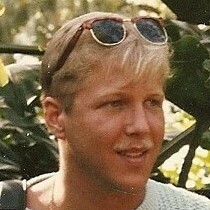 Jacob Distel
June 7, 2021 - September 25, 2021
MY PERSONAL 2021 AIDS WALK SUMMER SPLASH EVENT
In Memory and Hope; A Response to Legacy
IN MEMORY OF JON HOFFER AND AUDREY MATISOFF
This year is a very special event as I observe the Twenty-Fifth Anniversary of Jon's passing. As you all know by now, each year I do my personal AIDS Walk event in memory of my partner of 17 years, Jon Hoffer. This year I also do this event in Memory of Audrey Matisoff.
This year's AIDS Walk Summer Splash event will conclude  on Saturday September 25, 2021.  It is a reimagined event as our communities slowly begin the Post-Covid transition.
On May 4, 2021 I observed Jon's passing 25 years before, and on October 4, I will observe what would have been our  41st Anniversary. LAAN lost Audrey Matisoff, our beloved Clinical Director, in November 2020. She had been a part of the agency for 22 years. Both of these lives have had an inpact on my life and the work that I do that no other two persons have. It is their legacy that I respond to.
As some of you might know, Jon sat with me on a Regional HIV/AIDS Consortia in Ann Arbor prior to his passing.  Jon was also a volunteer at an AIDS Service Organization in Ann Arbor and served as a Buddy to others that were infected with HIV.  He was committed to those efforts, intent on seeing that the battle be fought as long as was necessary, and intensely hopeful that the epidemic might end.  Unfortunately he never witnessed that day.  Twenty-five  years after his passing we are witness to improved treatments, enhanced quality of life, new treatment strategies, and normalized life spans. There is, however, still much work to be done!
Audrey's committment to HIV  work has no equal. Her dedication to the individuals impacted by HIV and the communities that this agency serve was clear and undeniable. That dedication has served as a guidepost for all of us at LAAN since my starting in 2006.
Even though life goes on, there is not a day that goes by that I do not think of Jon, miss Jon, remember with pride how dignified he was throughout his battle, and wish deeply that he was still with us as we fight the good fight.  I recall Audrey with the same sentiments. Jon  and Audrey would understand  the support that continues to be necessary for those living with HIV and the critical direct  service that is provided by AIDS Service Organizations such as the Lansing Area AIDS Network.  The dollars raised during this event provide resources critical to agency operation and enhance care and prevention services.  I hope that you will comprehend that need as you consider your sponsorship this year. 
In their memory and in appreciation of the legacy that Jon and Audrey have left with all of us, I ask that you support me this year.  I know that Jon will be with me in spirit. In Memory and Hope, I hope that you will be too!  Thank you!
With great affection, Jake
0
days
0
hours
0
mins
0
secs
My Supporters
Jon Family and Friends

In Memory of Jon.

Last month

$30.00

Shawna Vore

In Memory of Jon Hoffer

August 2021

$100.00

Cella Mar Studio of Hair Design (Marcella Osenbaugh-Valle)

In loving Memory of Jon and in Honor of Jake and Chad.

August 2021

$100.00

David and Gloria Ambrose

August 2021

$25.00

Michael Distel

July 2021

$50.00

Walter Winsor

For all the great times we spent with Jake and Jon and the great times we spend with Jake and Chad. Thanks for fighting the good fight Jake. Wally and Marge

July 2021

$200.00

Robert Winsor

July 2021

$50.00

Sandee and Patrick Crowley

July 2021

$50.00

Laurie Lutomski & Janet Wollet

Jon is forever in our Hearts! We love you Jake

July 2021

$100.00

Maxine Thome

July 2021

$300.00

KELLI ANDERSON

Can't believe it's been 25 years Miss you !

July 2021

$50.00

Sharon Ketchum

You have left a wonderful mark! Thank you.

July 2021

$100.00

Mark Stoffan

In Memroy of Jon

July 2021

$50.00

Bill Shipley

July 2021

$50.00

Jacob and Rosemary Distel, Sr.

In Memory of Jon. We miss you.

July 2021

$50.00

Chad Hewitt

In Memory of Jon and Audrey.

June 2021

$100.00

Sandy Soifer And Paul Goldner

In Loving Memory of Audrey Matisoff

June 2021

$500.00

Jacob Distel

In memory of Jon Hoffer and Audrey Matisoff. Always in our hearts!

June 2021

$100.00
Sandy Soifer And Paul Goldner

In Loving Memory of Audrey Matisoff

June 2021

$500.00

Maxine Thome

July 2021

$300.00

Walter Winsor

For all the great times we spent with Jake and Jon and the great times we spend with Jake and Chad. Thanks for fighting the good fight Jake. Wally and Marge

July 2021

$200.00

Shawna Vore

In Memory of Jon Hoffer

August 2021

$100.00

Cella Mar Studio of Hair Design (Marcella Osenbaugh-Valle)

In loving Memory of Jon and in Honor of Jake and Chad.

August 2021

$100.00

Laurie Lutomski & Janet Wollet

Jon is forever in our Hearts! We love you Jake

July 2021

$100.00

Sharon Ketchum

You have left a wonderful mark! Thank you.

July 2021

$100.00

Chad Hewitt

In Memory of Jon and Audrey.

June 2021

$100.00

Jacob Distel

In memory of Jon Hoffer and Audrey Matisoff. Always in our hearts!

June 2021

$100.00

Michael Distel

July 2021

$50.00

Robert Winsor

July 2021

$50.00

Sandee and Patrick Crowley

July 2021

$50.00

KELLI ANDERSON

Can't believe it's been 25 years Miss you !

July 2021

$50.00

Mark Stoffan

In Memroy of Jon

July 2021

$50.00

Bill Shipley

July 2021

$50.00

Jacob and Rosemary Distel, Sr.

In Memory of Jon. We miss you.

July 2021

$50.00

Jon Family and Friends

In Memory of Jon.

Last month

$30.00

David and Gloria Ambrose

August 2021

$25.00