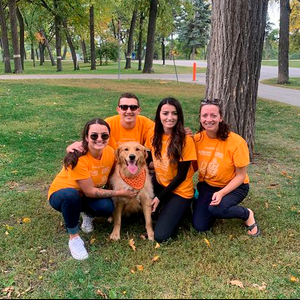 Walk Dates
Winnipeg Walk - September 19
Selkirk Walk - September 12
Our Team Fundraising Page
We sadly lost our beloved Mother, Grandma, Sister, Aunt and Wife, Ann Peterson on Jan. 17, 2020 to cancer. Ann was a kind and loving person who was always caring for others. This was very obvious through her dedication to her work. Ann was an educational assistant for 25+ years and she had a way with helping students whom others struggled to connect with. She was a very loving mother and wife who is greatly missed. 
I am participating in the Paws for a Cause Cancer Walk, because I know I am making a difference in the lives of people who are dealing with cancer every day. We are also honouring Ann's legacy by creating a scholarship at Garden City Collegiate in her honour. This annual scholarship will be provided each year towards a student planning to study a similar profession as Ann.
Please help me reach my fundraising goal by donating to the Never Alone Cancer Foundation. We are trying to beat our previous years' fundraising amounts. Each dollar you contribute will be matched so we greatly appreciate your support!
I hope that you will join me as every dollar will make difference.
Thank you for supporting me and more importantly providing a helping hand to Manitobans affected by cancer. 
0
days
0
hours
0
mins
0
secs
Our Supporters
Karen Vaarmeyer

September 2021

$25.75

Anonymous

September 2021

Jacqueline McDonald

September 2021

$25.75

Judy Minkus

September 2021

$50.00

Esperia Serreti

September 2021

$20.00
Stephen O'Leary

August 2021

$257.50

Rob Parry

September 2021

$250.00

Darryl Marsch

Ann Peterson scholarship fund.

September 2021

$200.00

Adam McCarthy

September 2021

$137.29

Rhonda Kirkness

August 2021

$128.75