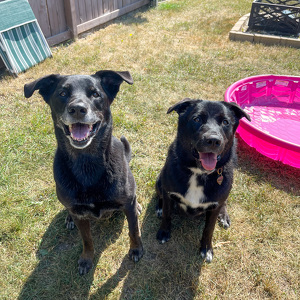 Walk Dates
Winnipeg Walk - September 19
Selkirk Walk - September 12
Chloe & Rue's Fundraising Page
In Memory of Grandpa Jerry
Hi! My name is Rue and I lost my Grandpa Jerry to cancer almost five years ago. I miss my Grandpa Jerry very much and this is my way of honouring all of the wonderful work he did in the community.
Hi! My name is Chloe and I am sad I never got the chance to meet my Grandpa Jerry but my Mommy tells me how much he would have loved me and all the amazing things he did within the community.
Help us with our fundriaising goals by joining our team as we walk to raise money for Jerry's Gift - Day Away Program created in memory of our Grandpa Jerry!

-Chloe & Rue
woof woof!
0
days
0
hours
0
mins
0
secs
Our Supporters
Shannon Kalar

September 2021

$41.20

Shelly Kubas

September 2021

$20.00

L. Chikowski

September 2021

$40.00

Lisa Hansen

September 2021

$25.00

Kaylee Maslowsky

September 2021

$51.50
Christine Maslowsky

Dad would be so very proud of you both for creating & continuing this event in his memory to raise funds for Never Alone Cancer Foundation!!

August 2021

$257.50

Rayanne Legros

September 2021

$113.30

Debbie Maslowsky Arthur Cohen

Your dad would be / IS so very proud of you all... as are we. Love you. Auntie Debbie, Arthur & Sarah xoxox

August 2021

$103.00

Kimberly R Olynyk

This donation is in memory of our sweet girl Mollie who crossed over the rainbow bridge too soon on June 13, 2021. We also honour my sister Lori and extended family member Murray W. as they fight cancer.

August 2021

$103.00

Terry Eshelman

In memory of our friend Jerry Maslowsky; whom we miss very much. Jack & Terry Eshelman

September 2021

$100.00