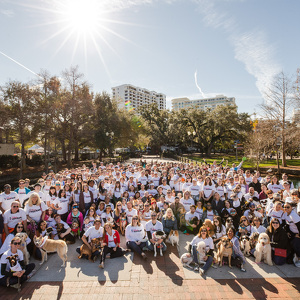 Disney Dogs
Our Team Fundraising Page
As part of the Disney Dogs Pack team, hundreds of Disney VoluntEARS and their loved ones — pets included — walk each year in Paws in the Park to support Pet Alliance of Greater Orlando. Pet Alliance of Greater Orlando was founded in 1937 and is one of the state's oldest and largest animal welfare organizations. As the "go to" pet experts in Greater Orlando, they aim to do good things for dogs and cats and the people who love them. Their goal is to provide compassionate and knowledgeable services for pets and to be leaders in innovative animal care and veterinary medicine. Their mission is to educate, shelter, place, and heal pets and their families with compassionate, responsible care maintained to the highest professional standards. Their vision is to create more caring communities by promoting happier, healthier pets and their families.
Disney Dogs has taken the top fundraising award for many years and we hope to continue the tradition this year! Your support will mean so much and truly help the animals most in need in Central Florida.
Raise $20: receive a commemorative dog bandana
Raise $75: receive the 2022 Paws in the Park t-shirt
Thank you for joining Disney Dogs!
Our Supporters
Melissa Kennedy

6 hours ago

Kaitlynn Woodcock

In honor of Betty White ❤️

9 hours ago

$5.20

bernard ferstenberg

14 hours ago

$75.00

Alyssa Myracle

17 hours ago

$20.00

Cindy Barron

Love from Gibbs & the kitty crew.

17 hours ago

$26.00
Carrie Rice

2 days ago

$312.00

Carrie Rice

#BettyWhiteChallenge

21 hours ago

$208.00

Kari Samora

3 days ago

$208.00

Anne Duff

4 days ago

$104.00

Dale van Gelder

5 days ago

$100.00