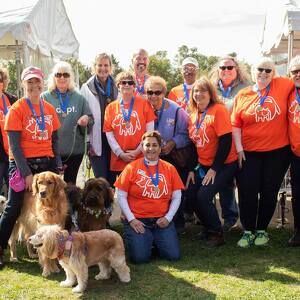 Our Team Fundraising Page
Join the Volunteers Unleashed 2020 Team!
Calling all volunteers!! The Heart and Sole Walk for Animals is back this year but with a twist! It will be a virtual event meaning you and your four-legged friends can take a walk anywhere - in your neighborhood, on the trails or even at the beach - the possibilities are endless. They'll be prizes for volunteers who raise the most money you don't want to miss. We will be hosting virtual festivities that day so make sure to mark it on your calendars! Join us for the 31st Walk for Animals to beat last years number of $17,068.
0
days
0
hours
0
mins
0
secs
Our Supporters
Anonymous

2 days ago

Anonymous

3 days ago

$100.00

Beverly Gorniewicz

3 days ago

$50.00

Jayne Pelosi

5 days ago

$26.25

Elizabeth DiDuca

Aunt Dorrie and Uncle Jim, what a wonderful cause. Hope to see you soon. Love, Lizz, Vicky, Joe, Mary and the family

5 days ago
Patricia Leonard

Last month

$525.00

Joop & Ria Nagtegaal

3 weeks ago

$500.00

Karen Wilkey

5 weeks ago

$500.00

Dennis Seale

3 weeks ago

$300.00

emilie wilshire

Thank you, Andrea, for all you do to rescue the animals!

3 weeks ago

$262.50