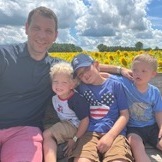 Our Team Fundraising Page
Thank you for visiting our fundraising page! Whether it's a friend, a family member, or neighbor down the street, we almost all know someone with Down syndrome and related disabilities. Like us, many of you have been personally touched by the lives of these individuals. We are proud to be part of DSAW-South Central's 21st Annual Down Syndrome Awareness Walk because it means so much to us and to our family.
Please consider supporting our team in any way you can. Each donation, no matter how big or small, will support individuals with Down syndrome and related disabilities.
Donating through this website is simple, fast, and totally secure. It is also the most efficient way to support our fundraising efforts. You can make your tax-deductible donation online, or if you would prefer, you can send your contribution to the DSAW-South Central, PO Box 44796 Madison, WI 53744 (Just be sure to write our team name on the memo line so that we get credit for the donation!) Whatever you can give will help - it all adds up! To sponsor us simply press Donate Now.
To join our team, click Register For This Event.
Many thanks for your support, and PLEASE don't forget to forward this to your entire address book and anyone else who you think might want to donate and register to walk as part of our team.
Marge Schuster

$21.00

Jim Schuster

$21.00

F Schuster

$21.00

Amanda Geisinger

$21.00

Aaron Geisinger

$21.00

Aaden Geisinger

$21.00

Anderson Geisinger

$21.00

Aimee Geisinger

$21.00

Josh Anderson

$21.00

Ben Anderson

$21.00

Julia Anderson

$21.00

Sam Anderson

$21.00

Rebecca Anderson

$21.00

James Schuster

$15.00

William Thomsen

$15.00

Jason Schuster

Jacob Schuster
0
days
0
hours
0
mins
0
secs
Our Supporters
Nolan Mehringer

Team Nolan's Nation is happy to support our buddy Jacob this year! Wish we could be there this year to celebrate with you all! Have a great walk!

October 2022

$50.00

Ranee Williams-Toycen

Jessica and Matt thank you for everything you do to raise awareness for Down syndrome!! Jacob is such an amazing little guy and he is so loved!

October 2022

$22.05

Cassie Shumway

September 2022

$22.05

Anonymous

September 2022

Daniel Schuster

September 2022

Anonymous

September 2022

$105.00

Karissa Chorbajian

Go Jacob Go! The $17 reflects every year I have known and loved your amazing parents. Cheering Jacob on from SC with much love and pride. Love you guys! Gooooo Jacob's Man Crew!

September 2022

$17.00

Bethany Anderson

September 2022

$100.00

Beth Anderson

September 2022

$21.00

Melissa Sorenson

September 2022

$105.00

Stacy Myers

Go Team Jacob!!! We're sorry we can't be there in-person to cheer you on. We love you, Jacob Man!

September 2022

Adam Schuster

September 2022

Caroline Egloff

September 2022

Colleen & Phil McCarthy

September 2022

$52.50

Susan Frey

Go Jocob man!!

September 2022

Anonymous

September 2022

$105.00

Beth Yardley

Love you Jacob Man!!

September 2022

Christine Keating

September 2022

$100.00

Kelly Bean

Keep doing the amazing things your family is doing for Down Syndrome Awareness. You are making a big difference for so many! Sending love to all of the Schuster (and Moore) families with a little bit extra for Jacob.

September 2022

$50.00

Theresa Pattara

September 2022

$105.00
Anonymous

We love you, Jacob man! Elizabeth, Chad, Bodhi, and Ruhani

August 2022

$1,050.00

William Thomsen

August 2022

$105.75

Anonymous

September 2022

$105.00

Melissa Sorenson

September 2022

$105.00

Anonymous

September 2022

$105.00

Theresa Pattara

September 2022

$105.00

Bethany Anderson

September 2022

$100.00

Christine Keating

September 2022

$100.00

Susan Moore

For Jacob man's team

August 2022

$100.00

David and Dominique Hoffman

Yay team Jacob!!

August 2022

$100.00

Colleen & Phil McCarthy

September 2022

$52.50

Jason Schuster

August 2022

$52.50

Nolan Mehringer

Team Nolan's Nation is happy to support our buddy Jacob this year! Wish we could be there this year to celebrate with you all! Have a great walk!

October 2022

$50.00

Kelly Bean

Keep doing the amazing things your family is doing for Down Syndrome Awareness. You are making a big difference for so many! Sending love to all of the Schuster (and Moore) families with a little bit extra for Jacob.

September 2022

$50.00

Ranee Williams-Toycen

Jessica and Matt thank you for everything you do to raise awareness for Down syndrome!! Jacob is such an amazing little guy and he is so loved!

October 2022

$22.05

Cassie Shumway

September 2022

$22.05

Beth Anderson

September 2022

$21.00

Karissa Chorbajian

Go Jacob Go! The $17 reflects every year I have known and loved your amazing parents. Cheering Jacob on from SC with much love and pride. Love you guys! Gooooo Jacob's Man Crew!

September 2022

$17.00