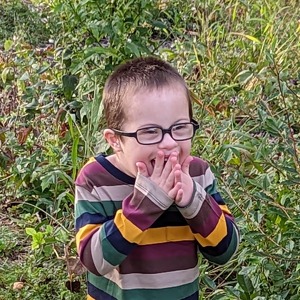 Chasey's Champs Team Fundraising Page
Hi Friends!
If you've ever met Chase, you know the joy that he brings to the word around him! And if not, you've likely had a friend, family member, or neighbor down the street with Down syndrome or a related disability. And so, I can only hope, you have been personally touched by the lives of these individuals. We are proud to be part of DSAW-South Central's 21st Annual Down Syndrome Awareness Walk and hope you are able to join our team to raise funds for the critical work DSAW does to support these individuals with Down syndrome.
Please consider supporting our team in any way you can--whether through a monetary donation, joining our team (in person or virtually), or even just sending good vibes by posting a thoughtful message about someone you know with a disability. Because disabilities don't define a person--nor should they limit what that person can achieve. Each donation, no matter how big or small, will support individuals with Down syndrome and related disabilities.
Donating through this website is simple, fast, and totally secure—simply press Donate Now to make your tax-deductible donation online, or if you would prefer, you can send your contribution directly to DSAW-South Central, PO Box 44796 Madison, WI 53744 (Just be sure to write our team name on the memo line so that we get credit for the donation!)
To join our team, click Register For This Event.
Many thanks for your support, and please don't forget to forward this to your entire address book and anyone else who you think might want to donate and register to walk as part of our team!
Go Chasey's Champs!
Dan Bower

$21.00

Tina Bauer

$21.00

Nicholas Bower

$21.00

Haylie Bauer

$21.00

Marla Bower

$21.00

Kayla Bauer

$21.00

Jayne White

$21.00

David White

$21.00

Cari Zutter

$15.00

Chad Zutter

$15.00
0
days
0
hours
0
mins
0
secs
Our Supporters
Anonymous

October 2022

Anonymous

Love ❤️ from Aunt Susie & Uncle Jerry

October 2022

$20.00

Marlene Pollock

October 2022

$50.00

Sarah Wood

October 2022

$22.05

Rachel Connolly

September 2022

$50.00

Aaron & Dayna Ausing

September 2022

$100.00

Jayne White

August 2022

$1,000.00

Dennis Bower

From Uncle Dennis & Auntie Lorean. Love Ya Buddy!

August 2022

$50.00

Tina Bauer

August 2022

$55.65

Julie Bower

August 2022

$221.00

Jeffrey & Lauren Hartung

We love you Chase!

August 2022

$100.00

Cari Zutter

August 2022

$70.00

Ross Connell

Wish we could be there to walk with your team.

August 2022

$52.50

Chase Bower

August 2022

$150.00
Jayne White

August 2022

$1,000.00

Julie Bower

August 2022

$221.00

Chase Bower

August 2022

$150.00

Aaron & Dayna Ausing

September 2022

$100.00

Jeffrey & Lauren Hartung

We love you Chase!

August 2022

$100.00

Cari Zutter

August 2022

$70.00

Tina Bauer

August 2022

$55.65

Ross Connell

Wish we could be there to walk with your team.

August 2022

$52.50

Marlene Pollock

October 2022

$50.00

Rachel Connolly

September 2022

$50.00

Dennis Bower

From Uncle Dennis & Auntie Lorean. Love Ya Buddy!

August 2022

$50.00

Sarah Wood

October 2022

$22.05

Anonymous

Love ❤️ from Aunt Susie & Uncle Jerry

October 2022

$20.00