Art's Warriors for CJD
Let us stride for a cure for CJD and other Prion diseases
My Father, Best Friend, Inspiration and Hero
In loving memory of a husband, father, brother, uncle, cousin and grandfather, hero, and public servant. My dad served his country honorably with two tours  in the Vietnam War as a Corporal in the United States Marine Corps. After being discharged he earned a Bachelor of Arts in Political Science from San Jose State University then a Masters in Public Administration also from San Jose State University . He graciously served as a public servant for over 25 years in the great state of Colifornia and Arizona in appointed county and city government positions. He was especially fond of the position of City Manager for seven city's. His fight with this monstrous disease started in 1998. His symptoms started to peak out with balance issue simply being told he had "weak ankles" those symptoms subsided and short term memory loss ensued unable to follow his colleagues to out of town meetings while driving, these symptoms were simply attributed to stress of his career. Later in 2001. He was in a city council meeting negotiating a contract for the city, and like the flick of a light switch he forgot where he was and what he was doing. Later that year we moved to the city of Oxnard, CA hoping with extended family around he would be able to find another City Administrative position. He had a job interview  out of town. As soon as he drove onto the freeway he forgot where he was going. Fortunately my dad was able to drive his way back home. Weeks later he was in a minor accident and had his driver's license suspended, as well as being unable to find his way out of his doctors office (fortunately  he was able to use his cellphone to call my uncle and ask him for a ride home) Based these symptoms my mom took him to the Veterans Affairs hospital in Los Angeles. He was admitted under observation, he was put through a battery of test from ALS to Early Onset Alzheimer's. All those test came back negative, all the while we were hoping for diagnosis of cancer. Days later we received a 80% chance of probable Sporadic CJD. Upon this probable diagnosis, my dad wanted to make contribution to accelerate Prion disease research, he   donated his body to the National Prion Disease Research and  Surveillance Center. He also decided to spend his remaining  days at home with us. After a 4.5 month courageous battle with this monstrous disease, my dad took his last breath on October 18, 2002. My dad passed one month after his 56th birthday.  Dad, you are the best remodel for me and Sonya. We hope you are resting comfortably with your parents and siblings. We will reunite when we are called Home...  #cureCJD
About CJD & The CJD Foundation
Creutzfeldt-Jakob Disease (or CJD) and their related Prion diseases are 100% fatal neurodegenrative diseeases with no treatment and no cure, CJD and related Prion diseases  are also known as Transmissible Spongiform Encephalopathies (or TSE's). 
Most cases of Prion disease are sporadic; that is, they arise spontaneously for no known reason. More rarely Prion disease is inherited due to a faulty gene, or acquired by medical procedures, transfusions, or contaminated food.
Abnormally formed Prion protiens cause neurodegenerative disease by aggregating extracellularly within the central nervous system to form  known as amyloid plaques, which disrupt the normal tissue structure. This disruption is characterized by "holes" in the tissue with resultant spongy architecture due to the vacuole formation in the neurons. Other histological changes include astrogliosis and the absence of an inflammatory reaction. While the incubation period for pPrion diseases is generally quite long, once symptoms appear the disease progresses rapidly, leading to brain damage and death. Neurodegenerative symptoms can include convulsions, dementia, ataxia (balance and coordination dysfunction), and behavioral or personality changes.
People who have been affected by CJD  and related Prion diseases comfort through the CJD Foundation.  The CJD Foundation provides support for families who have lost a loved one to this misunderstood disease.  The Foundation's philosophy is to be proactive by establishing collaborations and linkages, communicating with family members, researchers, physicians and political representatives and informing the broader community about CJD.  When someone has lost a loved one to this disease, there are not many who relate to this type of loss.  The CJD Foundation brings people together to share their stories, vent, cry, and unite together.   Caring for and losing a person with CJD is extremely overwhelming.  Each day brings new challenges for family members who go on this journey.  The Foundation is a place that brings people together who share a common goal in spreading awareness about the disease. #CureCJD #CurePriondisease #Strides4CJD
Text to Give
To donate to my Strides for CJD text STRIDES2022 to 50155. 
About Fundraising
Donations of $250 and above are considered sponsorships.
Sponsorship Levels:
Diamond: $10,000
Platinum: $5,000
Gold: $1,000
Silver: $500
Bronze: $250
Diamond and Platinum Sponsors will have their name or logo displayed on participant t-shirts, the Strides for CJD website, and signage. Gold Sponsors will have their name or logo displayed on the Strides for CJD website, and will have their name listed on participant T-shirts and signage. Silver and Bronze Sponsors will have their name listed on the Strides for CJD website only.
0
days
0
hours
0
mins
0
secs
Attempting to Educate about Neurodegenerative Diseases & The Evils of CJD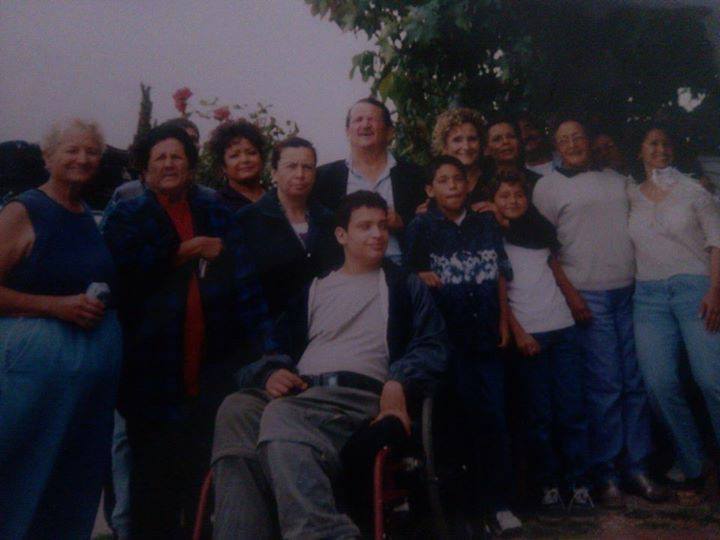 The Evils of CJD
This family portrait was taken one month prior my dad's death
My Attempt to Educate my Peers at CSUN & YouTube
I made this video as part of an assignment for my English class at California State University, Northridge. In the video I describe the more common neurodegenerative disease eventually introducing Sporadic Creutzfeldt-Jakob Disease
My Supporters
Arturo de la Cerda

August 2022

$50.00
Arturo de la Cerda

August 2022

$50.00
About Strides for CJD
Strides for CJD is an annual walk/run to raise awareness of Creutzfeldt-Jakob Disease (CJD), a rare neurodegenerative disease that has no treatment or cure. Through this event, anyone -- anywhere -- can pay tribute to their loved ones and raise funds for the CJD Foundation, a 501(c)(3) organization.
Funds raised support our programs including:
Our 24/7 helpline, support groups, conference, and other family programs throughout the year.
Research grants to help scientists make important discoveries and bring us closer to a cure.
Medical education to help raise awareness and understanding of prion disease.