Broadening Our Impact, Supporting Leket Israel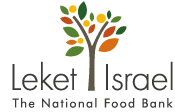 In light of the tragedy impacting the people of Israel, we all want to find a way to help. Our partner in addressing food insecurity, Leket Israel, is currently distributing hot meals to those living under siege in Southern Israel.
We have created this special TEAM LEKET page. ALL donations made to TEAM LEKET will be directed to Leket Israel in support of their meal distribution goal.
How Leket Israel is helping those directly impacted by recent attacks…
Your support, no matter how small, can make a significant impact. Let's work together to provide essential relief to the communities under siege. Together, we can bring real hope and help to those facing tough times.
Leket Israel plans to provide 5,000 people at risk with a hot meal each day over a 2-month period, through the purchase 320,000 cooked meals.
Our Supporters
Jessica Engelhart

Last month

$50.00

Anonymous

Contribution to Leked sponsored by the Jewish Family and Children's Service

Last month

Anonymous

Last month

Jeremy Kierman

A match in honor of donations by the Weinberg, Davis, Lanzetta, Kierman, Brand, Junio, and Green families.

Last month

$450.00

Stacey & Todd Bialow

Last month

$250.00
Jeremy Kierman

A match in honor of donations by the Weinberg, Davis, Lanzetta, Kierman, Brand, Junio, and Green families.

Last month

$450.00

Stacey & Todd Bialow

Last month

$250.00

debra carrion

Last month

$250.00

Andrea Dedrick

Last month

$250.00

Rebecca Gabriele

Last month

$250.00