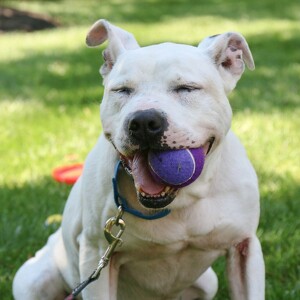 For the Love of Bob
May 1, 2021 9:00am - May 31, 2021 11:00am
Our Team Fundraising Page
Bob - The Goodest Boy
Bob, yes THE Bob, was a bright light who lit up every room he entered. He brought joy to everyone he met and even won over non-dog lovers with his big smile and loveable personality (even his adoptive mama!). Afraid of "pit-bull type dogs"? Bob would change your mind. He was truly one of a kind and is a legend in his own right.
Bob was the motivation and inspiration behind a new behavior initiative at the BVSPCA - to create a space where dogs could become acclimated in a home-like setting. Thanks to Bob, the behavior room named for him has helped countless dogs on their journey to find their forever home. 
Bob crossed the rainbow bridge in February 2021 and we imagine he is in doggy heaven playing with Giggle Balls, eating McMuffin's, and watching over all of the people who so loved him. He will never be forgotten and will continue to be an inspiration and a driving force in our quest to save homeless dogs.
Our Walk for Paws team is dedicated to Bob, and all of the amazing dogs in our shelters like him who just need a little pateince and love to be the best dog they can be. 
We love you, Bob!!
0
days
0
hours
0
mins
0
secs
Our Supporters
Jody Lyon

You give every bit of yourself to these dogs not only in your job but your free time. You're unique in so many ways and I admire your passion. Have a great event!

May 2021

Anonymous

May 2021

SUE Dibiaggio

May 2021

$51.97

Lori Ciardi

May 2021

$50.00

Cathy Lakoff

May 2021

$50.00
Edward Bernier

April 2021

$519.75

John & Meg Carbone

Issy - You are amazing! Keep saving all the animals!! Meg & John

April 2021

$259.87

Cathy Lakoff

April 2021

$150.00

John Sweet

April 2021

$103.95

Hagan Mulvena

April 2021

$103.95