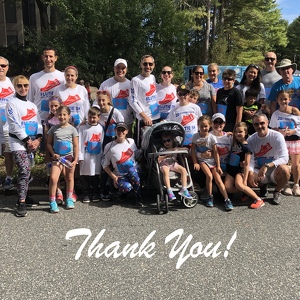 About our Team!
Franconia Neighborhood Intervention was officially established in 2017 by Garrett and Kim.  They became involved with the Flutie Foundation shortly after their son was diagnosed with autism, and began participating in the Flutie 5K in 2015.  Their friends, family and neighbors have continued to join them every step of the 5k.  
Fundraising!
We are excited to be raising money for the Doug Flutie, Jr., Foundation for Autism.  We proudly share their vision: "A world where people with autism lead productive lives where they are included, respected, and actively engaged in their communities." We can attest first-hand that the Flutie Foundation's programs and activities improve the quality of everyday life for people and families affected by autism.  They "provide a path for education and/or employment during the day; opportunities for physical and social activity outside of work/school; and the tools to be safe, supported, and informed at all times." 
We appreciate any amount you can donate.  Every little bit advances the Flutie Foundation's mission: "To help people and families affected by autism live life to the fullest."
AK

Amy Keith

$39.25

SS

Shailey Smith

$38.50

KL

Kevin Leach

$35.00

N

Natasha McLaughlin

$35.00

T

Tim McLaughlin

$35.00

RD

Rebecca Donovan

$35.00

RD

Rebecca Donovan

$35.00

GW

Garrett Winslow

$35.00

KF

Katy Foley

$35.00

JF

John Foley

$35.00

GS

Graham Smith

$35.00

A

Andrea Benoit

$35.00

MB

Michael Benoit

$35.00

ES

Ellen Silverman

$35.00

AK

Andy Keith

$35.00

AS

Allie Shepard

$35.00

TS

Tim Shepard

$35.00

JD

Jay Donovan

$15.00

GD

Gabri Donovan

$15.00

EW

Eliza Winslow

$15.00

NW

Nolan Winslow

$15.00

KF

Kalyse Foley

$15.00

MF

Mac Foleu

$15.00

DB

Dylan Benoit

$15.00

CB

Cole Benoit

$15.00

SB

Stella Benoit

$15.00

SK

Sam Keith

$15.00
Our 5k Details
When we are running: 10/16/2022
Where we are running: Belkin Lookout Farm
Our Supporters
Boston Mutual Life Insurance Company

Last month

$52.50

Jeanette Szretter

Last month

Anonymous

Last month

Anonymous

Last month

Marnie Carey

Go team Franconia and Winslow family! Wish we could join for the race- we'll be cheering you on from afar.

Last month

$52.50
Jennifer Goodhope

Go team!

September 2022

$157.50

Katy Foley

August 2022

$110.00

Kevin Polansky

October 2022

$100.00

Adam and Aimee Veness

Good luck Winslows!

September 2022

$100.00

Boston Mutual Life Insurance Company

Last month

$52.50