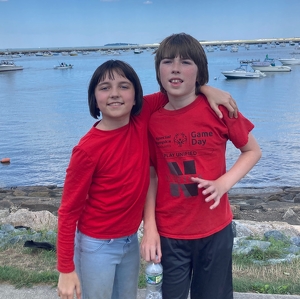 About our Team!
Team Bayley is a group of family and friends who come together every year to support James Bayley who was diagnosed with autism in 2012.  James' mom first ran the Flutie 5K for Autism in 2014 after taking up running to keep up with her super- energetic 5 year old son.  Every year since then, Team Bayley has grown to include many members of James' extended family as well as close friends who run and walk to show their love for an amazing 13 year old boy who never gives up!  James, you make us proud every day!
Fundraising!
We are excited to be raising money for the Doug Flutie, Jr., Foundation for Autism.  Help us to support their vision of "A world where people with autism lead productive lives where they are included, respected, and actively engaged in their communities."
The Flutie Foundation's programs and activities improve the quality of everyday life for people and families affected by autism.  They "provide a path for education and/or employment during the day; opportunities for physical and social activity outside of work/school; and the tools to be safe, supported, and informed at all times." 
We appreciate any amount you can donate, as every little bit matters and will further the mission of helping autistic individuals (like our beloved James) live their lives to the fullest.
Thank you for your support for this cause that is so close to our hearts!
JS

Jim Schneider

$35.00

CD

Camille Duhamel

$35.00

AH

Anna Hawkins

$35.00

LH

Liam Hawkins

$35.00

JL

Julia Lanagan

$20.00

KB

Katherine Bayley

$16.50

JB

James Bayley

$15.00

SL

Sarah Lanagan

$15.00

SH

Shealyn Hawkins

RH

Rylee Hawkins
Our 5k Details
When we are running:
Where we are running:
Our Supporters
debra scribner

Last month

Comcast

Great job everyone!!!!! Sorry I missed out!

Last month

$106.00

Sean Hawkins

Great job everyone!!!!! Sorry I missed out!

Last month

$111.30

Lori Wolfe

Last month

$52.50

Kimberly-Clark Corporation

Last month

$100.00
Sean Hawkins

Great job everyone!!!!! Sorry I missed out!

Last month

$111.30

Comcast

Great job everyone!!!!! Sorry I missed out!

Last month

$106.00

Meg Lanagan

Last month

$105.00

Jessica Tripp

October 2022

$105.00

Kimberly-Clark Corporation

Last month

$100.00