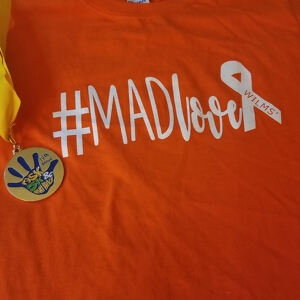 MADlove
May 6, 2023 10:00am - 12:00pm
Our Team Fundraising Page
Team MADlove's "WHY"
This is the 5th year that Team MADlove will participate in the ASK 5k and Fun Run!  Shortly after Molly turned 6, she was diagnosed with a Wilm's Tumor on one of her kidneys.  Molly had surgery within 48 hours of diagnosis.  This organization is near and dear to all of us because of the support that they provide to our family.  ASK was there from the moment Molly was diagnosed with a Wilm's Tumor and they are still helping us to this day.  No parent ever wants to hear scary news about their child's health but ASK helped us navigate the cancer journey.  
This walk has turned into an event that our family looks forward to!  We all like watching the donations come in and we also enjoy trying to meet some of the challenges that ASK puts out there.  Last year we raised $5,265!  This year we hope to have one of the biggest teams and we also hope to raise even more money than we did last year!
0
days
0
hours
0
mins
0
secs
Nancy Burgess

Joy Smith

Brittany Verbeeck

Kyle Lee

Victoria Quilter

William Lee

Gray Tyler

Christine Downing
Our Supporters
Amy Rhinehart

Molly Anne, we love you so much! I'm sorry we can't be there with you tomorrow! Love, Rylee, Braylin, Rhett, Amy and Dayton

May 2023

$52.00

Connie Wasniewski

May 2023

$104.00

Barefoot Appraisals

May 2023

Karen Newsome

May 2023

$50.00

Matching Gift 5.2.23

May 2023

$104.00
Matching Gift 5.1.23

May 2023

$1,600.00

Peelers Tiki Bar

May 2023

$1,600.00

Matching Gift 5.1.23

May 2023

$250.00

Kyle & Bill Lee

May 2023

$250.00

Matching Gift 5.1.23

May 2023

$200.00