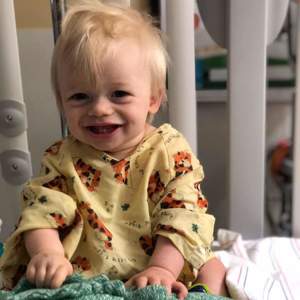 Our Team Fundraising Page
We are running and fundraising in support of 9 month old Holden "Baby Hoho" Harris who was diagnosed with leukemia in March 2019. Holden is currently in VCU Children's hospital for at least 28 days undergoing chemotherapy treatments and other medical management. Baby Hoho is a true fighter and remains the happiest, most adorable little boy despite it all. Please join us in supporting Holden, his parents Jessica and Josh, big sister Piper, and other extended family during this trying time.
0
days
0
hours
0
mins
0
secs
Team Badges
This team hasn't earned any badges yet.
Our Supporters
Anonymous

May 2019

$25.00

Sherry Gillespie

Prayers for you and your family!

April 2019

$50.00

Molly Lloyd

April 2019

Sharon Breeding

Josh and Jess you two are amazing parents and such a strong little family and team. The prayers continue as you travel this journey. Hoho is strong and such a little trooper. We love you all.

March 2019

$25.00

Amanda Goodman

Praying for Baby Hoho and the whole Harris family! ❤

March 2019
Sherry Gillespie

Prayers for you and your family!

April 2019

$50.00

Anonymous

May 2019

$25.00

Sharon Breeding

Josh and Jess you two are amazing parents and such a strong little family and team. The prayers continue as you travel this journey. Hoho is strong and such a little trooper. We love you all.

March 2019

$25.00