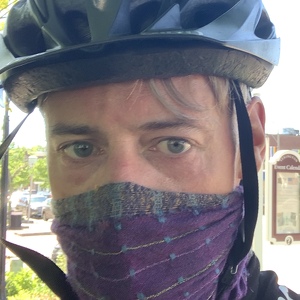 Gordon Cooke
September 28, 2020 - September 29, 2020
Can I trouble you for the cost of a pint
100 mile bike ride for a great cause
So, with everything else going on at home and in the rest of the world, why this cause?
BNB just resonates with me, the local and global view, the empowerment of individuals and the considered reuse of resources. Bike riding and playing soccer have been 2 constants for me over the last 45 years. I have always loved to cycle and still remember the thrill of bringing each new-to-me bike home and taking it out for that first ride.
There was a man in our neighborhood back in Scotland, Raymond, a retiree, who would accept unwanted bikes, fix them up and sell them on for the cost of the parts. He would also undertake minor repairs such as punctures, tire replacement, maybe helping you add a cool new set of handlebars or stop your brakes squealing. As well as putting a "new" bike within reach of those who may not otherwise have been able to obtain one, he taught. Not formally. But as he was repairing your bike he would explain what he was doing, demystifying the process and empowering you by putting repairs within your reach. He was also there for the more challenging items, say, in the aftermath of transitioning a poorly constructed ramp at high speed for instance, but even those more challenging repairs became more approachable.
BNB epitomizes that memory to me.
Each year BNB collect roughly 5,000 used bicycles and tons of used parts from supporters around Greater Boston and New England.They ship most of these bikes overseas to economic development projects through International Partners in Africa, Latin America, and the Caribbean.
Some of the bikes are repurposed in Youth Programs where teens learn bicycle safety and mechanics skills in the process of earning bikes to keep for themselves. A retail Bike Shop also reconditions and sells some of the donated bikes, while employing many graduates of our programs. The Shop's profit from the bicycle sales, parts sales, and repairs goes towards funding youth and international work.
So if you have a loose dollar or two and you feel this is a reasonable use for it, toss it in the bucket. It wil be much appreciated and well used. It will also take some of the sting out of my post 100 mile ride stiffness. 
Cheers!
Gordon
Photo Gallery
Job Done - September 13th Century Ride for BNB Bike-A-Thon 2020
Thank you to John and David for the great company on the ride from JP to Hopkinton and back. Extra thanks to David for much-needed pacing and for the suitably distanced celebratory refreshments he provided.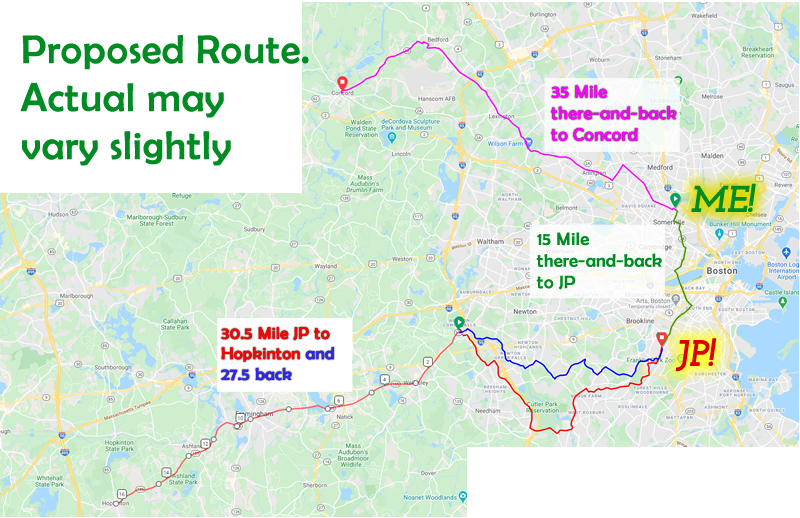 Proposed route - Sunday September 13
A 6:30 AM start will see me ride to Concord and back before heading to JP to join up with a couple of fellow BnB BAT riders to begin the Hopkinton stage @ 10AM.
0
days
0
hours
0
mins
0
secs
My Supporters
Tara McCaffrey

Well done you. And you clearly underestimated your fundraising goal!!!

September 2020

$52.50

Gail Stewart

What a good cause!

September 2020

Stephen Foley

September 2020

$42.00

Justin CREMINS

September 2020

Dolores Ferry-henry

September 2020

$40.00
American tower corporation

March 2020

$200.00

Anonymous

March 2020

$200.00

Anonymous

September 2020

$105.00

alex stewart

September 2020

$100.00

Tara McCaffrey

Well done you. And you clearly underestimated your fundraising goal!!!

September 2020

$52.50