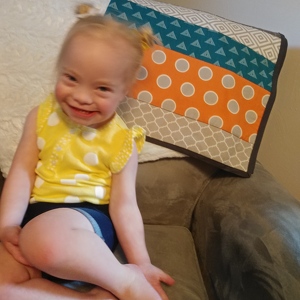 Our Team Fundraising Page
Thank you for visiting Team A-Maisy-ing Maisy's page! We are proud to be part of the 12th Annual DSAW- Green Bay  Down Syndrome Awareness Walk because it means so much to do many people special us!
Due to the pandemic, this year's walk will look a little different. We can't wait for a months-long, virtual party celebrating our loved ones with DS! Now more than ever, your support of DSAW is crucial. We need YOU to help ensure DSAW's viability during this pandemic and beyond. Please consider supporting Team A-Maisy-ing Maisy in any way you can. Each donation, no matter how big or small, will support programs that we all enjoy throughout the year!
Donating through this website is simple, fast, and totally secure. It is also the most efficient way to support our fundraising efforts. You can make your tax-deductible donation online, or if you would prefer, you can send your contribution to the DSAW-Green Bay, PO Box 668, Green Bay, WI 54305 (Just be sure to write Team A-Maisy-ing Maisy on the memo line so our team will get credit for the donation!) Whatever you can give will help - it all adds up! To sponsor us simply press Donate Now.
To join our team, click Register For This Event.
Many thanks for your support, and PLEASE don't forget to forward this to your entire address book and anyone else who you think might want to donate and register to walk as part of Team A-Maisy-ing Maisy!!
Shelby & Zach Edlebeck

Susan & Gary Anderson

Ellen Scharenbroch

Kari Anderson
0
days
0
hours
0
mins
0
secs
Our Supporters
Jennifer Edlebeck

September 2020

$25.00

Judy Raether

Please credit this donation to Team A-Maisy-ing Maisy

September 2020

$25.00

Allie Ladwig

Oh Miss Maisy, I miss seeing your beautiful smile and teaching you in dance class! You are most definitely an inspiration to me, and with your determination and positive attitude, I have no doubt you'll continue to soar and do great things. You truly are

September 2020

Chris Harder

September 2020

$250.00

Kelly Rowe

September 2020

$21.00

Mary Corkin

September 2020

Anonymous

September 2020

Anonymous

September 2020

Dustin Anderson

September 2020

$21.00

Shelby & Zach Edlebeck

September 2020

$50.00

Carrie Arnold

September 2020

$50.00

Bobbie Christus

Had to bring you to your goal!!!

September 2020

$60.00

Anne Younger

September 2020

$21.00

Anne Christensen

Maisy, You are beautiful! You go girl!

September 2020

$100.00

Kathy Waino

September 2020

$50.00

Jeff & Jennifer Koss

You Go Maisy! Saw you on the news this morning and it reminded me to send in my donation.

September 2020

Shaney boy & Sarah McD

We love and miss princess Maisy! Keep on ah-Maisy-ing us all ❤️

August 2020

$121.45

Gary and Sue Anderson

August 2020

Sybilla Buhr

Keep on keeping Maisy!❤️

August 2020

Lisa England

August 2020

$21.00
Chris Harder

September 2020

$250.00

Shaney boy & Sarah McD

We love and miss princess Maisy! Keep on ah-Maisy-ing us all ❤️

August 2020

$121.45

Anne Christensen

Maisy, You are beautiful! You go girl!

September 2020

$100.00

Tom & Bonnie Radtke

This donation is in memory of our wonderful daughter Suzie!

June 2020

$100.00

Bill & Julie Edlebeck

June 2020

$100.00

Facebook Donations

June 2020

$100.00

Bobbie Christus

Had to bring you to your goal!!!

September 2020

$60.00

Kathy Waino

September 2020

$50.00

Stephanie Pierce

July 2020

$50.00

Carrie Arnold

September 2020

$50.00

Shelby & Zach Edlebeck

September 2020

$50.00

Jennifer Edlebeck

September 2020

$25.00

Judy Raether

Please credit this donation to Team A-Maisy-ing Maisy

September 2020

$25.00

Facebook Donor

August 2020

$25.00

Facebook Donor

June 2020

$25.00

Facebook Donor

June 2020

$25.00

Kelly Rowe

September 2020

$21.00

Dustin Anderson

September 2020

$21.00

Anne Younger

September 2020

$21.00

Lisa England

August 2020

$21.00