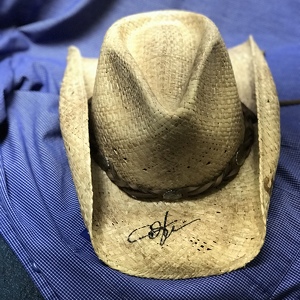 AAM Central Technology Center - Sapulpa
Toby Keith Cowboy Hat Raffle Tickets
Tickets are one for $5 or five for $20. To buy your raffle ticket you will need to click on the Donate Now button and make sure to say in the message section that this is for the raffle, your first and last name, and a good contact phone number in the message. The winner will be contacted on 12/6/2019. All ticket sales are final. If you are unable to pick up your prize, you will have to pay out of pocket for it to be shipped to you. If you have any questions please contact me at paula.estrada@centraltech.edu.
Join our team in supporting a great cause! 
We're raising money for the National Pediatric Cancer Foundation and your contribution will make an impact. Whether you donate $5 or $500, every little bit helps. Your contribution and support is greatly appreciated.
About the National Pediatric Cancer Foundation: 
The National Pediatric Cancer Foundation (NPCF) collaborates with leading hospitals across the nation to fund clinical trials to find faster cures specifically for pediatric cancer. Since 1991, the NPCF has been a shining light for children fighting cancer by donating millions of dollars to research. The clinical trials we've funded are yielding amazing discoveries and the advancements are saving children's lives.
Our Supporters
The Board of Education Central Tech

December 2019

$780.00

Board of Education Central Tech

December 2019

$210.00

Katherine Tully

Toby Keith raffle Katherine

November 2019

$10.00

Anonymous

November 2019

$41.58

Whitney Gibbs

November 2019

$20.00
The Board of Education Central Tech

December 2019

$780.00

Board of Education Central Tech

December 2019

$210.00

Anonymous

I am please to enter the win Toby Keith signed cowboy hat and help your great cause - hope your event goes great - I can totally come pick up prize if I am the winner - just let me know !! have a great day = Kama Martin

November 2019

$200.00

Anonymous

November 2019

$41.58

Tyson Baughn

For the raffle

November 2019

$20.79