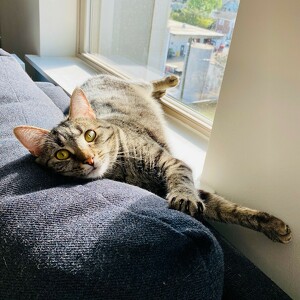 Meredith Ross
April 24, 2021
Meredith Ross's Pet Palooza Fundraiser
Thank you for supporting me, Violet and the Humane Society of Charlotte!
When Meredith Met Violet
In September 2017, hundreds of animals were rescued from Hurricane Irma — one of the costliest Atlantic hurricanes of all time — and transferred to shelters farther north. Many of them made the journey from South Florida to Charleston to Charlotte, transported in small vans full of crates.
Two weeks after these animals arrived at the Humane Society of Charlotte, I visited to look around, unaware that there was recently an influx of new rescues. Though I often stopped by HSC just to say hi to the animals, it was no secret I had been wanting a cat of my own for a while.
When I walked into the "adult" cat room, all of the cats were taking a nap — except for one. The one who caught my eye was a spry and mischievous 3-year-old female. She was also bugging all the other cats while they tried to sleep. The volunteer who was working that day said they had a baby gate up by the door specifically because of her; she often tried to sprint out of the room when people weren't paying attention. Aptly, her name was Storm. Though I assume she was given this name because of the hurricane from which she was rescued, I'm convinced there was a double-meaning.
As I was leaving that day, the volunteer at the front desk asked if there was anyone I particularly liked. I immediately mentioned Storm, and she responded with, "She's a popular one! I'm sure she won't be here for long." I drove away assuming I might not ever see her again.
The following Monday, I decided to check out the adoption center at Petco in Huntersville just out of curiosity. I saw some cute kittens on their website over the weekend and wanted to meet them. As I sat in bumper-to-bumper traffic on the way there, I considered just turning around and going home. However, I ended up sticking it out and getting to Petco 15 minutes before closing time.
When I walked back to the adoption center, I was disappointed to see most of the cages empty. There was a black cat named Darth Vader, along with another in the corner who didn't have a nametag yet. I took a closer look and realized it was Storm. I couldn't believe the coincidence that she was transferred the same day I decided to visit, but the worker at Petco verified it was her. (I'll never know why she was transferred, but it probably had something to do with her annoying all the other cats.)
In a span of about 5 minutes after petting her and playing with her, the worker said they were about to close. I asked if I could fill out an application and get back to them, but they said I'd need to bring her home that night if I decided to submit an application. Within 10 minutes, I adopted Storm, put her crate in a shopping cart and loaded it up with food, supplies and a cozy bed. In a frenzy, I grabbed a collar and needed to decide on a name for the tag. I typed in VIOLET, and the rest is history.
Despite how much this story sounds like a Hallmark movie, Violet would've never come into my life without the bravery and hard work of rescuers across the East Coast. I've decided to participate in the annual Pet Palooza walk to pay it forward and support those who gave my little ray of light a chance at a safer and happier life. Please join me and support my fundraising efforts to help the furry friends who love us unconditionally.
Thank you for your generosity, and remember: adopt, don't shop!
0
days
0
hours
0
mins
0
secs
My Supporters
Jack Ross

April 2021

$50.00

Elizabeth Ross

I'm so happy to support you and this outstanding organization in your honor and my sweet Grandkitty Violet, too.

April 2021

$100.00

Luke Blades

April 2021

$40.00

Sophia Ege

April 2021

$20.00

Morgan Ward

Mer + Violet are the perfect match and more cats deserve loving owners like Meredith. Much love, Morgan

April 2021
Elizabeth Ross

I'm so happy to support you and this outstanding organization in your honor and my sweet Grandkitty Violet, too.

April 2021

$100.00

Jack Ross

April 2021

$50.00

Luke Blades

April 2021

$40.00

Sophia Ege

April 2021

$20.00