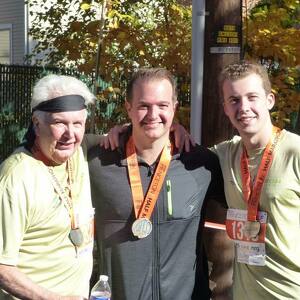 Sheehy & Molinelli
Together, we can make a difference!
Bill Sheehy Co-founded this event in 2017. They set a goal to raise $1,000,000 by running Half Marathons. At the onset, Bill was age 70.
They ran the Trenton Half Marathon (2017) and Princeton Half Marathon (2018) together. The event now includes a 10K, 5K and 1 mile Family Fun Walk at the Mercer Meadows Miller in Pennington, NJ.

After five years we've raised $877,491

In June, the Club granted 22 scholarships from the proceeds of the event.

This year our goal is $180,000. These funds will be used to support the college access program, developed by the club staff, specifically to assist introducing club members to the opportunities available through higher education.

Bill, at age 75, will run the Mercer Meadows Miler 5k; John Molinelli will run the 10K, and Jeff Strasburg will do a bike race to show his support.
Here are three reasons why we are asking for your support:
As an institution, the B&G Club is an oasis of hope in a city with severe challenges. The Club is "making a difference" by changing the lives of hundreds of at-risk children seeking further education and a safe place to go after school.

Donations go directly to the Club, a highly respected 501c(3) local non-profit. The leadership of Dave Anderson and Reggie Coleman is extraordinary and the well credentialed staff is dedicated to fulfilling their worthy mission. 

The Club empowers youth to excel in school, set goals for the future, develop post-high school pathways and make choices that can change the trajectories of lives.  The goal is to improve 

the number of students who go on to higher education. Many inner-city students don't have access to the same opportunities afforded those who reside in more prosperous communities.
If you want to play a part in this amazing journey, please click on the "donate" below. Select the participant you wish to support.
Thanks,
Bill Sheehy, John Molinelli, Jeff Strasburg and Sara O'Connor.
Our Supporters
Betty A & D Walter Cohen Foundation

1 week ago

$250.00

Daniel Sheridan

1 week ago

$500.00

Foundation of the Rotary Club of Princeton Corridor

1 week ago

$1,000.00

William Doerler

1 week ago

$50.00

Scott Harrah

1 week ago

$250.00
Sheehy & Molinelli

July 2022

$25,750.00

Rue Insurance

July 2022

$15,000.00

Thomas Sherry

3 weeks ago

$5,000.00

Rhonda Vinson

Last month

$2,500.00

Aaron Tellier

You're making a difference Bill! Thank you!

Last month

$1,500.00
About BGC Mercer:
The Boys & Girls Clubs of Mercer County provides young people, ages 5-18, with educational, social, and recreational activities through after-school, summer and online programs.  Programs focus on building bright futures!  Each year BGC Mercer gives 2,600 youth access to character development, college and career preparation, and tools for healthy-living.  Their mission is to enable all young people, especially those who need us most, to reach their full potential as productive, caring, and responsible citizens.