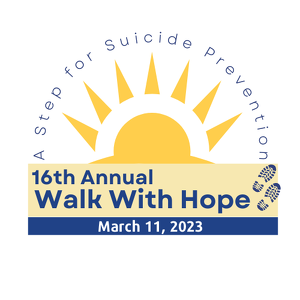 Team Fundraising Page
Thank you for visiting our Team page!
We are raising funds to support With Hope, the Amber Craig Memorial Foundation's suicide prevention school and community based programs, community outreach efforts, and life-saving critical crisis intervention.
You can register as an In-Person Walker or a Virtual Walk Participant and walk from home or make a donation to one of our team members.
Donating through this website is simple, fast and totally secure. It is also the most efficient way to support my fundraising efforts and make a life-saving difference.
To learn more about With Hope, the Amber Craig Memorial Foundation, visit their website www.withhopefoundation.org.
Many thanks for your support -- and don't forget to forward this to anyone who you think might want to donate too!
Thank you for Helping to Prevent Suicide!
Joseph Brzuska

Maria Sandoval

Nicholas Wagenseller

Yakima Powell-Lee

Dillon Laule

Scott Craig

Julianne Pfister

Danica Kinne

Cody Vote Healey

Lauren Fleischmann

Justin Ferneau

Keith Orr
Our Supporters
Friends Church YL Match

March 2023

$2,275.00

Misc Donations

March 2023

$1,474.00

Amy Phillips

March 2023

$50.00

Laura McGrane

In memory of Kristen Thorsen, Amber Craig, and Chris Emery.

March 2023

Jeffrey Nolan

March 2023

$500.00
Alter Health Group

February 2023

$2,500.00

Friends Church YL Match

March 2023

$2,275.00

Misc Donations

March 2023

$1,474.00

Jeffrey Nolan

March 2023

$500.00

Summit Financial & Siewertsen Family Match

February 2023

$475.00