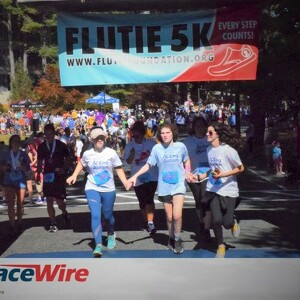 ACEing Autism & the Flutie 5K
Tell your Donors about your Team and Fundraising!
ACEing Autism has been fielding a team at the annual Flutie Foundation 5K since 2009! We are hoping to make 2022 our biggest year yet!
1. Thanks to an innovative development from the Flutie Foundation to enable their charity partners, 100% of the money raised by Team ACEing Autism this year will go directly to ACEing Autism!!!!!
2. You can be part of the team in person at Lookout Farm in Natick on Sunday, October 16th at 8:30am to run or walk this unique and family-friendly race course through the apple orchards. Individual fundraising is optional but we would love to have as many people there in person that morning to represent Team ACEIng Autism. We've had as many as 40 people be part of the in-person team in past years and we're hoping to beat that number this year!
3. If you can't make it that day or live too far away but still want to run or walk 5K at your convenience anytime during the month of October and collect donations as a virtual team member, that works too!! 
4. Or if you just want to make a donation to ACEing Autism, you can do so by sponsoring any team member.
ET

Elizabeth T Webb Green

$38.50

JS

Jennie Shaw

$36.75

SL

Sean Lawrence

$36.75

MH

Michelle Hoffman

$36.75

AS

Aaron Spiegel

$35.00

KB

kathleen berner

$35.00

JV

Julie Von Fettweis

$35.00

AH

Alex Hirsch

$35.00

CG

Carolyn Guttilla

$35.00

TW

Tricia Wajda

$35.00

JG

Jeff Green

$35.00

RS

Rob Spiegel

$35.00

CW

Chloe Watman

$16.50

LI

Lizzie Idelson

$15.00

NG

Nora Guttilla

$15.00

FW

Finley Wajda

$15.00
When we are running: Sunday. October 16th, 8:30am for in person team members - or anytime in October for virtual team members
Where we are running: Lookout Farm in Natick for in person team members - or anywhere of your choosing for virtual team members
Our Supporters
Sandra Robinson

Thanks Finley for participating for such a worthy cause

Last month

$52.50

Christine Wantman

Last month

$52.50

Ina Tamir

Last month

$54.25

Anonymous

Go Cat!!!

Last month

Patricia Carey

Last month

$26.25
Heather Park

September 2022

$157.50

Kate Deeley

September 2022

$106.75

Zoe Spiegel

August 2022

$106.75

Mary Magre

Great job Zoe!

October 2022

$105.00

Sandee Molinsky

September 2022

$105.00