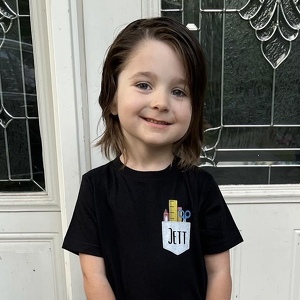 Jett's Troop ?
Thank you for visiting our fundraising page for the 2022 Flutie 5k!  We are running for our son, Jett!
Jett is an almost 4 year old who was diagnosed with level 3 autism in December of 2021.  At first, we were very overwhelmed with the diagnoses and very unsure of what to do.  After a ton of research, phone calls and multiple appointments,  we started to figure out the programs and tools that are best for Jett.  
 
My husband and I have been lucky enough to have the right people and the resources to get Jett into the programs he needs.  As we have been feeling more confident that he is making progress, we want to give back!  I have talked to several people at The Doug Flutie Jr Foundation and we are so happy to be able to work with them and donate to such an amazing establishment.
Please consider joining or donating to Jett's Troop!  He is the sweetest boy who loves Elvis, skeletons & lolipops.  His laugh will put an instant smile on your face.  Jett's blue eyes seem to get him out of any trouble he gets into and he uses them to be a lady's man.  He's an old soul who loves to dance in the kitchen to Dean Martin and comes running for Elvis.  
 
Jett loves being outside and will be joining us in his wagon during the 5K with his sisters!  We hope you can join as well
xo Brittany
Tell your Donors about your Team and Fundraising!
Thank you for signing up and fundraising for the 2022 Flutie 5k! This is your fundraising page where you can set a goal, upload images, and share on social media with donors. 
Page Editing Instructions
To edit any piece of your page, click the gear icon in the top right corner of each content box. Be sure to click "Update" at the bottom and then save on the bottom left of the page to ensure everything saves!
To hide any element on the page, click the eye icon in the top right corner of each content box. 
To move a section, click and drag any item to a different part of the page. Hover over the section until you see a grey box show up and then you can let go.  
Edit your story. In this text box, you can delete all of this wording and tell donors about why you are participating in the 2022 Flutie 5k. I suggest dragging an image from your files directly into the content box. Sometimes the "insert image" button can be hard to use.
Add photos to the image galleries below and to the side of anything that may apply!
Don't forget to save before you leave your page or else your edits won't save!
Share, share, share!
If you have any questions at all about setting up your page or your fundraising efforts, please contact Tia Dawson - Development Coordinator at tdawson@flutiefoundation.org.
HL

Heather Lane

$41.00

CL

Christopher Lane

$35.00

CD

Chris DiGiammarino

$35.00

NF

Nicholas Fagone

$35.00

AM

Allison Millian

$35.00

LD

Lauren DeAngelis

$35.00

JD

John DeAngelis

$35.00

JH

Jane Haynes

$35.00

RH

Richard Haynes

$35.00

ED

Emilia DiGiammarino

$15.00

JF

Julianna Fagone

$15.00

CF

Charleigh Fagone

$15.00

JF

Jett Fagone

$15.00

WF

Willow Fagone

$15.00

RF

Roberta Fagone

$15.00
Our 5k Details
When we are running: Sunday, October 16 (JETTS BIRTHDAY!) at 10:30am
Where we are running: Rowley
Our Supporters
Isabella Fagone

October 2022

$300.00

Ellen DeMattia

October 2022

$52.50

Mark Wallis & Danielle Harvey

We love you Jett!! Keep smiling that adorable smile!

October 2022

$50.00

Kayla Cassidy

October 2022

$52.50

John DeAngelis

LIVING WITH ALL GIRLS IS TOUGH JETT!

October 2022

$105.00
John Fagone

October 2022

$500.00

Isabella Fagone

October 2022

$300.00

Kristina Moore

October 2022

$200.00

John DeAngelis

LIVING WITH ALL GIRLS IS TOUGH JETT!

October 2022

$105.00

Ellen DeMattia

October 2022

$52.50