My Personal Fundraising Page
Twenty Five Years
It was in the summer of 1998 that I got the news that I was HIV positive. It took some time and lots of tests to get to that diagnosis but eventually they figured out why I was so incredibly sick. In doing the math, that meant that April of 1998 is most likely when I became infected.
25 years ago, the news sent my career into a temporary tailspin of which I was fortunate to recover from and get promoted one more time.
I do one big fundraiser each year and I do that wherever I am living. I do this in support of the organizations that help those newly infected or living with HIV locally. The Honolulu AIDS Walk is this year's fundraiser which raises money for the Hawaii Health & Harm Reduction Center (HHHRC).
So, this year I'm going BIG, I've got a team that is growing in size and fundraising, and we are currently sitting in 1st place. On June 17th we'll be walking with many others in remembrance, and in support of those like me, coexisting and living with HIV. I've got almost 40% of my goal achieved and with 66 days until the walk I'm confident in my friends and family that this year will be equal to or bigger than last year.
For my 25th year I'm asking you to support me by walking or giving, (or both). Thank You!!
Thanks to my very generous friends last year I was able to participate in the 2022 walk and we raised nearly $4000 for this amazing and vital cause. I'm looking forward to another great fundraising season, and walking around the city for this HHHRC AIDS walk. Please consider donating towards my fundraising goal and/or coming out and walking with me. 
Show us how YOU walk for LIFE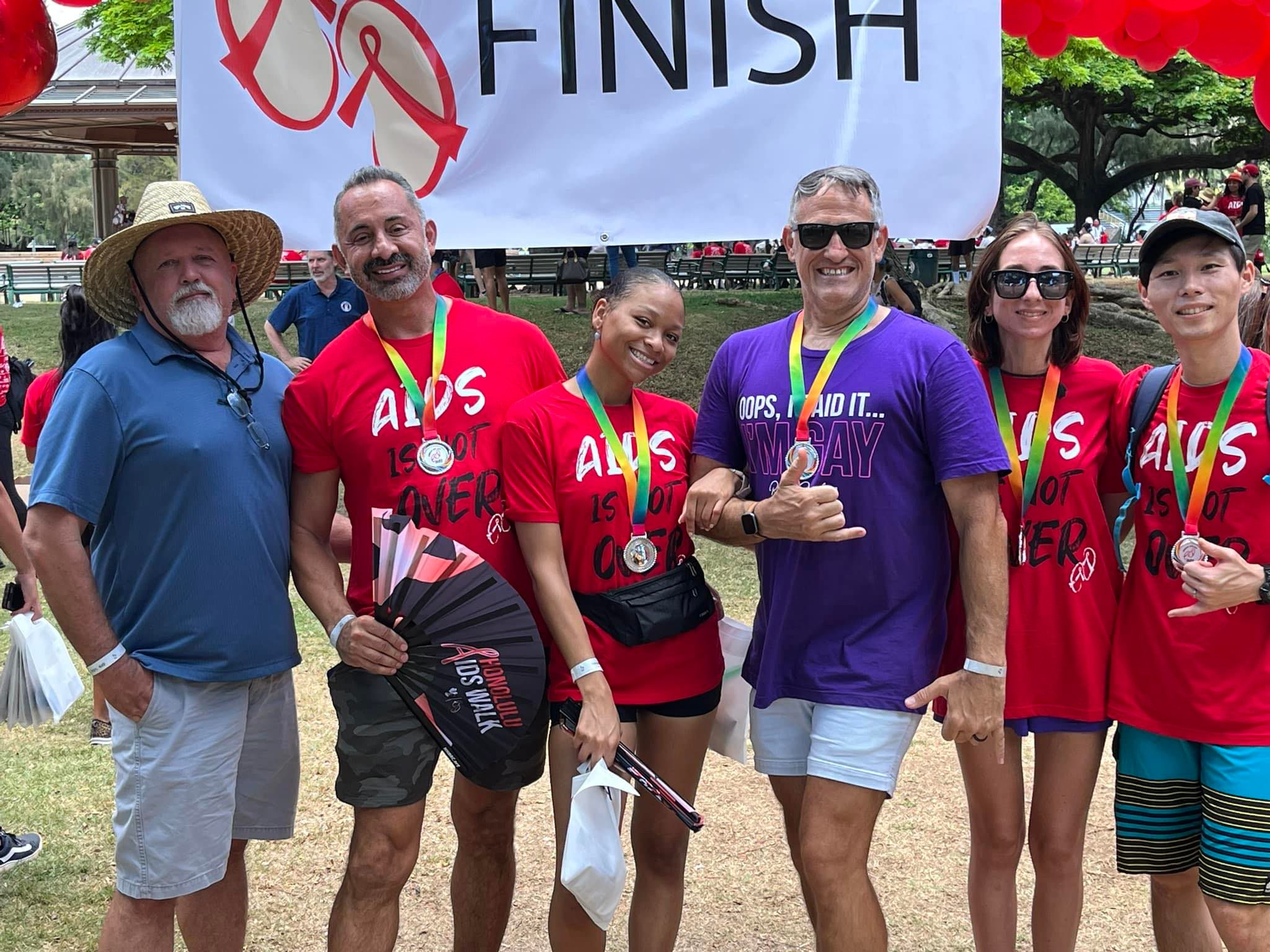 2022 AIDS Walk
It is always a gift to never have to walk alone. I've got some amazing local friends and I've always got space for more!
0
days
0
hours
0
mins
0
secs
My Supporters
Melanie Hannon

June 2023

$20.00

Scott Ronco

Thank you Jared for always inspiring your friends and family to support this cause! See you out at the park!

June 2023

$250.00

Anonymous

June 2023

Jennie Schultz

June 2023

$50.00

Kate Phillips

Here's to another year of health and awareness.

June 2023
Scott Ronco

Thank you Jared for always inspiring your friends and family to support this cause! See you out at the park!

June 2023

$250.00

Tammy Cranwell

We love you thanks for getting back in the fight. Thanks for being there for me when I had my virus ❤️

April 2023

$250.00

Mark Coffino

Love you Muff - Always. You're such an inspiration to so many and one of my favorite humans on the planet.

April 2023

$250.00

John Abbott

March 2023

$250.00

Edo Forsythe

Thanks for being an inspiration to the rest of us, Brother!

June 2023

$150.00