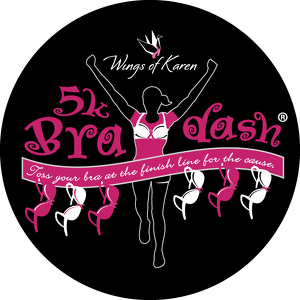 team Teresa the fighting Farley
May 22, 2016
We are Dashing with a Purpose!
Working directly with the research community, Wings of Karen gets the most mileage out of every dollar donated.  This is a race save lives, and we are dedicated to finding cures faster. With an absolute sense of urgency, we grant researchers the flexibility and permission to do the needed preliminary work, quickly and efficiently. The faster we fund and nurture these promising early ideas, the faster we will find the answers that will lead us to a cure.
There is passion behind everything we do at Wings of Karen. This passion is shaped not only by the personal battles with breast cancer by the founder of Wings of Karen, but also by the unyielding desire to reach out to all those affected by breast cancer in a positive, uplifting way, and in the process, funding the research that will find a cure.

It is a race to save lives, and every day brings a new opportunity to make a connection, energize a survivor, empower a new generation, and raise the crucial funds needed.

The 5k Bra Dash® is a celebration of what we CAN do as a community to join the fight against breast cancer.
Visit our website at www.wingsofkaren.org
How many people do you know who have been touched by breast cancer? Here's how you can make a difference...
It seems like more and more people I know are being affected by breast cancer. I know many survivors, I have lost very important people in my life, men, and women, and again, I just found out, a friend of mine who has been in remission for 9 years, is fighting this once again.
CANCER SUCKS!!!
Getting the word of awarness out there and doing regular breast exams is so improtant. This orginization, "Wings of Karen" puts EVERY PENNY DONATED to breast cancer recearch. Even the entry free that we, as a team pay to  participate in this, is a donation to the reasearch of our choice. Please consider donating, or joining our team on the 22nd of May to support breast cancer research.
Thank you!!!
0
days
0
hours
0
mins
0
secs
Our Supporters
Julie Siefkes

May 2016

$40.00

Anonymous

May 2016

David Forsman

May 2016

$100.00
David Forsman

May 2016

$100.00

Julie Siefkes

May 2016

$40.00