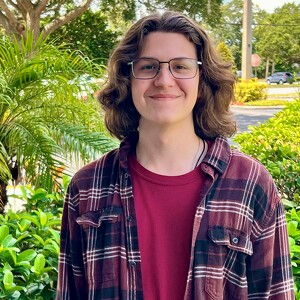 Ryder Wilson, Central Florida Speech & Hearing Center
October 29, 2022 5:00pm - 9:00pm
Help A Good Cause
Donate, Sponsor, or Share!
My Story
Hello, my name is Ryder Wilson and I'm an 18-year-old senior year at George Jenkins High School. I've worked at the center for some time now and as my correlation with the center's cause has grown I have felt more eager to help do something for the center.
That's why when I was given the opportunity to become a contestant I was more than ready to take up the mantle. The center does so many great things and performs miracles every single day. I've seen it with my own two eyes as miraculous things happen with a simple therapy session or a donation of a hearing aid. Our patients' lives are forever changed thanks to the help of our sponsors.
We would never have gotten as far as we have without your help and it is due to the kind donations and support that we are able to give to these patients the care that they seek. Please consider donating, sharing, or sponsoring me in my contest of becoming the number one contestant in the effort to win the title of "Mr. Central Florida". If you don't vote for me, please consider voting for another contestant, although, I'd like to embarrass some of these stubborn-old businessmen by bringing in more votes than they can so...
Thank you to all who contribute to such a great cause and I hope to see you at this year's event. 
Help me Meet my Goal!
0
days
0
hours
0
mins
0
secs
My Supporters
Lauren Lloyd

October 2022

$21.10

Mel & Skip Powell

October 2022

$50.00

Jessica Holland

October 2022

$20.00

Jennifer Hawkes

October 2022

$20.00

Roxann Bonta

October 2022

$100.00

Roxann Bonta

October 2022

$100.00

Anonymous

October 2022

Amy Tyner

Book Fair Donation

October 2022

$81.00

Caren Bodine

Very proud of you Ryder!!!

October 2022

$25.00

Shelby Husted

What an amazing achievement ❤️

October 2022

$26.37
Pilka Adams & Reed, PA

September 2022

$2,500.00

Lakeland Electric

Mr. Wonderful Sponsor

September 2022

$2,500.00

First Aviation Sertoma Inc.

First Aviation Sertoma Inc.

September 2022

$2,500.00

Clint Gordon

September 2022

$1,500.00

Peggy Floyd

October 2022

$1,000.00

Eyes on Lakeland

Golf Sponsor.

October 2022

$892.50

Clint Gordon

September 2022

$500.00

Brendan Ellis

August 2022

$150.00

Roxann Bonta

October 2022

$100.00

Roxann Bonta

October 2022

$100.00