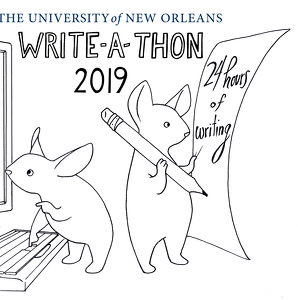 Our Team Fundraising Page
The University of New Orleans Press is proud to host this year's Write-A-Thon and help University of New Orleans' students by raising funds for the UNO Foundation Scholarship Fund. 
By donating to one of our teams members, you also help support the Press's mission of publishing work that contributes to the rich cultural tradition of New Orleans and the surrounding region, work that contributes to the intellectual and aesthetic life of academic and general audiences everywhere, as well elevating underrepresented voices and stories. 
Keep an eye out for us during the event, as we scurry about like the Write-A-Thon mice, and come write with us, either in person or remotely! 
0
days
0
hours
0
mins
0
secs
Our Supporters
Rick

March 2019

Erik and Jolie

Just think....some day with a LOT of practice...you too will be able throw around a few ellipses..wait for it...just like the MAN who taught you everything before UNO took the....Boom! One proper use right...Make it...three. Boo ya!

March 2019

$165.00

Eileen

Sometimes the right thing and the hard thing are the same thing. I read that on a teabag.

March 2019

$10.00

William

For my Bro Thomas! Love ya!

March 2019

$50.00

Grace

Thank you Chelsey Shannon for all your hard work!

March 2019
Linda and Jerry

Love and Peace!

March 2019

$250.00

Anonymous

Go for it!55

March 2019

$200.00

Erik and Jolie

Just think....some day with a LOT of practice...you too will be able throw around a few ellipses..wait for it...just like the MAN who taught you everything before UNO took the....Boom! One proper use right...Make it...three. Boo ya!

March 2019

$165.00

jesse

March 2019

$125.00

Shana-Tara

March 2019

$108.00