#StrongerTogether Leaderboard
6

Robin Reyes Powell

$500.00

7

Arlene DeBolske

$500.00

9

Ernestine Frazier

$500.00

10

Marilyn Burton

$500.00
View Full Leaderboard
RSVP now for TASC's Virtual Social Hour - A Grand Finale to #StrongerTogether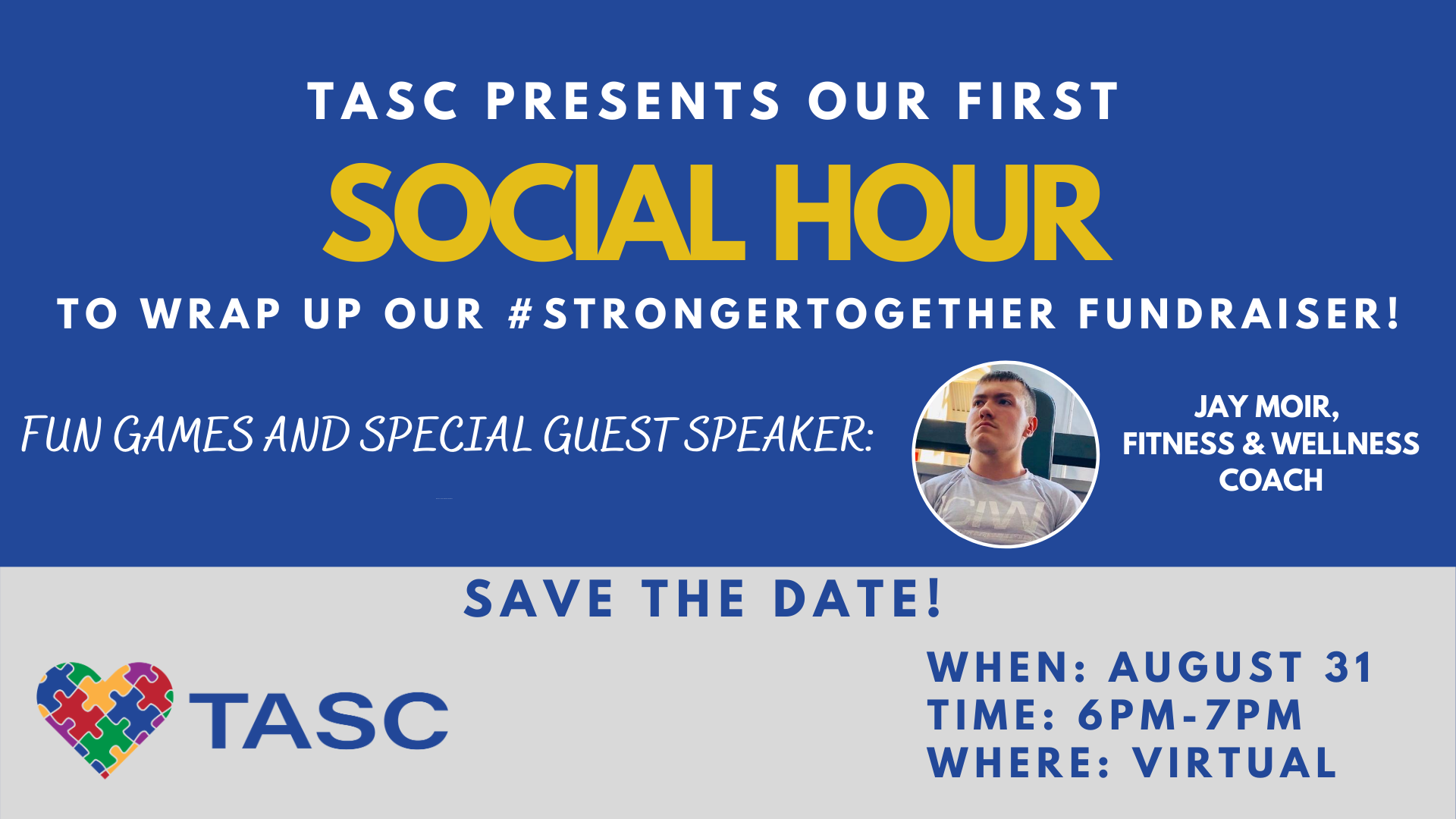 Mark your calendar for TASC's Virtual Social Hour on Monday, August 31 starting at 6PM. 
The evening will be a grand finale to the #StrongerTogether Campaign celebrating with interactive games, familiar faces, prizes, and a special guest speaker, Jay Moir. 
This event is created for all - whether you've been involved with TASC for 30+ years, or are a new face that wants to get to know TASC better. All are welcome!
RSVP today via the Facebook event (click here) or the Eventbrite link (click here) to automatically be entered in the raffle during the event. 
For questions regarding the event, feel free to email us at: info@taschq.com
More about our special guest speaker: Jay Moir is a wheelchair-user with cerebral palsy, currently living in Scotland. After dealing with mental health issues, Jay decided to change his life and inspire others to do the same through fitness and wellness. Jay is now a gym instructor, strength enthusiast and online trainer/advisor.
A Welcome to TASC's #StrongerTogether Virtual Fundraiser from Ken Lane, Executive Director
A message from the Executive Director, Ken Lane
A message from the Deputy Executive Director, Dennis Rutnam
A message from the Clinical Director, Alona Yorkshire
A message from a TASC Family, Nick & Marlene Leone
Join us for TASC's #StrongerTogether! Formerly Walk With Me.
Dear TASC Families, Friends & Staff,
After careful consideration, due to the health and safety concerns of our community related to COVID-19, we have decided to postpone Walk With Me, our largest planned fundraiser of the year. It will be postponed until spring 2021. 
In the meantime, we've moved to a virtual fundraiser, called #StrongerTogether to help us raise critical funding for TASC.
It's been inspirational watching our greater community come together during this time and is a testament to the fact that we truly are stronger together, even if we need to become creative with the way we are connecting with one another.
I invite you to connect and support us for this fundraising effort, which is more critical now than ever. There is no donation too small. Every donation will make a difference. I also encourage you to share this with your friends and family to increase your impact.
Funds raised from this virtual fundraiser will help TASC's programs to provide education, job-training, employment, and independent living services to hundreds of adults with intellectual and developmental disabilities living in the Greater San Fernando Valley.
I hope that you can help us continue to raise the critical funds because once the dust settles from these past few weeks, we will need to rely on donations from our supporters more than ever.
Hopefully you will join us and help spread the word. 
Thanks to the support of our community, we know this too shall pass and only come out of this #StrongerTogether.
Thank you everyone.
Sincerely, 
Ken Lane, Executive Director
Learn How to Help Us Reach Our Goals
Registration: Learn how to register and about your team fundraising page, click here.
Tips to Reach Fundraising Goals: Want to know how to reach your fundraising goals? Find the quick tips by clicking here. 
For an indepth guide to reach your goals, click here.
Like Us on Facebook & Stay in the Know of TASC News!
Learn About TASC's Mission
Healthy Living Initiative
TASC promotes a healthy lifestyle by providing health education related to diet and exercise, nutrutious meal planning and preparation classes. TASC assists clients with obtaining memberships, provides transportation to local gyms and more.