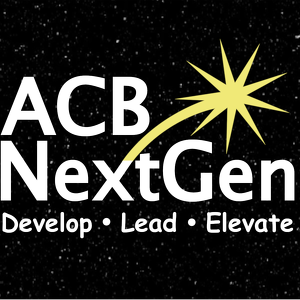 2021 Brenda Dillon Walk Page
ACB Next Generation is the newest special interest affiliate of the American Council of the Blind. Geared toward members under 40 with a supporting class beyond that age, we are constantly looking for new and innovative ways to engage our members and help with their personal and professional journeys. When you donate to ACB Next Generation, you are making a difference. A $25 donation will provide assistance for one of our members to virtually attend the annual ACB Conference and Convention or the annual D.C. Leadership Meeting and Legislative Seminar. A $50 donation will enable one of our members to attend both of these fantastic events. A $100 donation will assist us with promoting our affiliate on ACB Radio and distributing our member newsletter. A $150 donation will allow us to keep our Zoom line active so that we can continue to provide the best virtual programming and events to our current and prospective members, as well as our larger ACB family. A $250 donation will help us create a scholarship program for both nontraditional students and parents who are blind or visually impaired, and that same amount will aid us in building our technology grant program. Remember that no donation is too small or too generous. Whether it's $10 or $1,000, you are truly lending a helping hand so that we can provide a platform for our members to achieve their goals and dreams. We greatly appreciate your support of ACB Next Generation!
Tell people why they should support your team!
SA

Shane Aguilera

$25.00

KK

Kristen Kelling

$25.00

WR

Winter Renfrow

$25.00
Our Supporters
Anonymous

August 2021

$5.00

Anonymous

August 2021

$5.00

Anonymous

July 2021

$103.00

Gregg Wandsneider

July 2021

$103.00

Anonymous

July 2021

$1,028.97

Jeff Duncan

July 2021

$25.75

Shane Aguilera

June 2021

$500.00

Kentucky Council of the Blind Next Generation

June 2021

$50.00

Marsha Lindberg

June 2021

$103.00

Greg Lindberg

June 2021

$51.50

Annie Davis

Let's keep rockin' ACB NextGen!

May 2021

$103.00

Tony akamine

good luck -Rachel Akamine

May 2021

$5.00

Shane Aguilera

April 2021

$500.00
Anonymous

July 2021

$1,028.97

Shane Aguilera

June 2021

$500.00

Shane Aguilera

April 2021

$500.00

Anonymous

July 2021

$103.00

Gregg Wandsneider

July 2021

$103.00

Marsha Lindberg

June 2021

$103.00

Annie Davis

Let's keep rockin' ACB NextGen!

May 2021

$103.00

Greg Lindberg

June 2021

$51.50

Kentucky Council of the Blind Next Generation

June 2021

$50.00

Jeff Duncan

July 2021

$25.75

Anonymous

August 2021

$5.00

Anonymous

August 2021

$5.00

Tony akamine

good luck -Rachel Akamine

May 2021

$5.00