Autism SHARE Walk 2020
In response to COVID-19, the Autism SHARE Walk will happen virtually.
Celebrating is not canceled 
Self-care is not canceled 
Relationships are not canceled 
Reaching out for help is not canceled 
Reaching out to help others is not canceled 
Hope is not canceled 
Inclusion is not canceled 
Compassion is not canceled 
Awareness is not canceled  
Emphasizing the importance of family support is not canceled 
Giving is not canceled
Virtual Participation 101
STEP 1 
Register.  It's free.  This helps us measure the event's impact in the community which aids in our efforts to secure funds.  Thank you for participating.  During the registration process you will be prompted to setup a fundraising page.  Fundraising is optional, but we need your support now more than ever.   All funds stay local and go to support SHARE which provides respite care and other supportive services to families who care for children with special needs.   
Even sharing your participation helps raise awareness, and may prompt someone to give, or get involved! 
STEP 2 
Clidk here to Download, print, and attach the Participation Bib (photo prop) to yourself or your walking gear.  This is not required to participate, but a fun visual (and coloring page) to show your connection to the event, and to the cause!  Write your name, or your team name. Add some color if you wish.   
STEP 3 
Go for a walk in your yard, neighborhood or home

Take pictures and videos of your family walking anytime on April 18th.  Thousands of other West Texans are doing the same.  No one is alone on this journey. 

Tag SHARE @sharewtx on your Facebook and Instagram posts.  Also, consider using the event hashtag: #autismSHAREwalk2020 
Let us use your pictures in local publications.  Please email original high res participation photos to walk@sharewtx.org. 
Virtual Resource Fair
11:00am Learn about local resources and get answers to questions.  Se hablo espanol! Requires separate registration from event.  Click here to register!  
Activities & Prizes
Watch our social media feeds and check back here for crafts, and fun activities for all ages.  Each post or interaction enters you to win one of our cool prizes!!!
Interacting with character appearences on Facebook
And more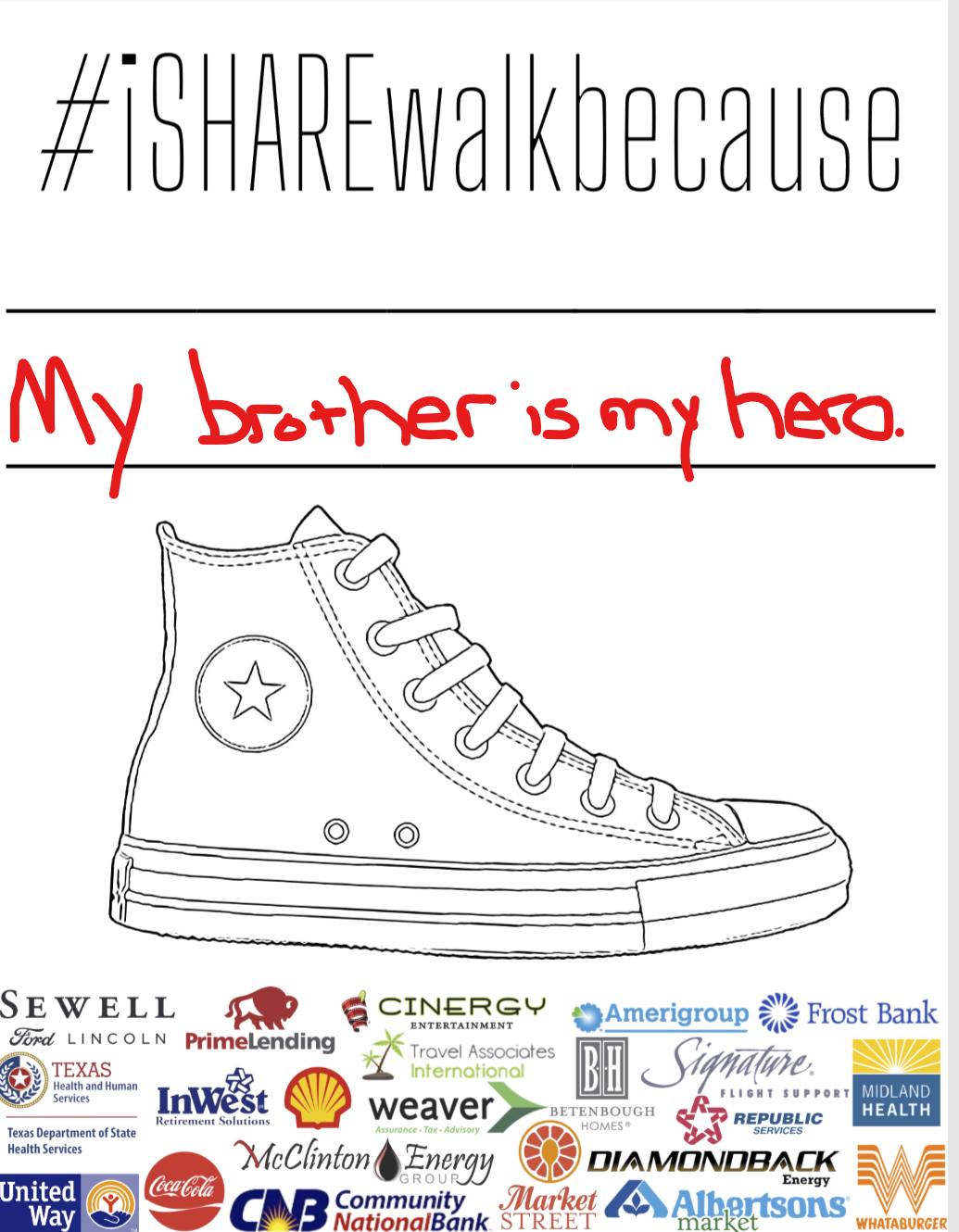 About the Walk - No One Walks Alone
Ready to celebrate those who are different? This 11th annual event honors all individuals with special needs and brings awareness to family support.  This year's virtual event also promotes inclusion and assures no one is alone on their journey.   The Autism SHARE Walk serves as a fundraiser for SHARE, a local nonprofit dedicated to caring for families where there are children with special needs. 
DONATIONS & FUNDRAISING
Organizations | Businesses | Departments | Sports Teams Classrooms | Clubs | Families | Friends | And More
Please consider forming a team, supporting one, or donating to our cause.  This helps us provide thousands of hours of relief care, parent training, support groups, sibiling support programs and other resources to families who care for children with special needs in the Permian Basin.  We need your help now more than ever.  When you register, as an individual, join a team, or form one of your own, you will be prompted to setup a personal fundraising page which can be shared with friends and on social media to let them know you are walking for autism, awarness and all disabilities.  Each fundraising participant requires a unique email address.  
SHARE (Sharing Hands, A Respite Experience)
A special need affects everyone in a family, not only the person experiencing the disability.  SHARE is a local non-profit dedicated to caring for every member of families who have children with special needs.  SHARE provides respite care (temporary relief), counseling and ongoing support for parents and siblings.  SHARE is a community of supportive friends because no one should be alone on this journey. Help us make a difference in the lives of these families, right here, right now!
"It's not an I'm sorry...but we're here for you. That's what I wanted to hear."
Estamos caminando por nuestra familia
XI Brothers Bikers here to support the cause
Southern Dawgs know what it's like to be different and want to raise awareness for our cause
I SHARE Walk Because
Why do you SHARE Walk?
We want to hear your stories, and honor your efforts.  You are not alone!   
SHARE is honored to play a role in your journey.  There are many milestones, successes connected to this event we are proud to know about. 
The Autism SHARE Walk has helped people 
Share a diagnosis with family and friends 

Get connected to support services 

Meet others on the journey and form supportive friendships with peers who understand 

Celebrate and support friends on their special needs journey 
Please consider sharing from your heart.  It could be a long-detailed story, or a quick one sentence message about why you walk with us.   
Print and use our iSHAREwalkbecause templates, make your own, or simply post/email your words without graphics. 
Tag us @sharewtx on your Facebook and Instagram posts and use the hashtag 
#iSHAREwalkbecause 

If you wish to share your story anonymously, email your message to walk@sharewtx.org.  We can share (like the examples here) without using your name.