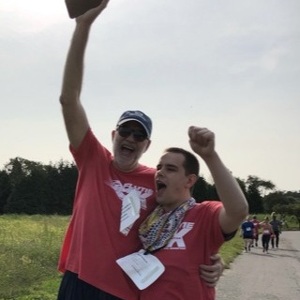 Amego - Official Charity Partner
Amego, Inc.
Amego is committed to supporting people living with autism and other developmental disabilities at home, school, work and as members of their families and communities.
Founded by families in 1971, Amego's core values still ring true today.  Adapting our services to the needs of the community, Amego provides services to children and adults across the lifespan.  From specialty early intervention services, community and home-based clinical services, diagnostic evaluations, children and adult residential programs, a specialty school for children ages 8-21, and adult day and vocational supports, Amego is dedicated to the care and education of all we serve.
Our tag line is "Care, Support and Lifelong Learning".  At Amego, we believe that all have the ability and should be given the opportunity to learn, no matter what age and what level of support and care is needed to do so.
Amego and The Doug Flutie Jr. Foundation for Autism
Amego is proud to once again partner with The Doug Flutie, Jr. Foundation for Autism at the annual Flutie 5K at Lookout Farm.
Each year, the individuals, staff and families at Amego embark on this "healthy competition" to raise funds for the services Amego provides through all divisions.  We hope you will join us in this year's Flutie 5k!
Flutie Foundation Contact Person
If you have any questions at all about our event or how to register, please contact Tia Dawson - Development Coordinator for Events & Operations at tdawson@flutiefoundation.org or on her cell at 508-808-2575.
About the Flutie Foundation
Flutie 5k Overall Leaderboard
1

Bubble Dentistry

$5,000.00

2

Deep River Snacks

$5,000.00

5

Diane & Craig Solomon

$2,625.00
View Full Leaderboard
My Supporters
Camila Duarte

October 2022

$105.00

Ellen Gustafson

October 2022

$106.75

Anonymous

October 2022

$52.50

Mary Dobrowski

Good Luck to all the runners for this wonderful cause. Doug Flutie is a hero Go Amego and Fly Eagles Fly!!!!!!

October 2022

Erin McQuaid

October 2022

$108.50
Anonymous

YOU ARE AMAZING!

September 2022

$367.50

Paul Bergman

Go Amego All Stars!!!

September 2022

$262.50

Paul Harden

Go West Bacon!!

October 2022

$250.00

Jennifer Toppin

Thank you AMEGO for everything you do! Much Love - Cameron Dwyer's Family

September 2022

$250.00

Jody Johnson

September 2022

$150.00
Finish Line Flutie 5k Sponsors
Endurance Flutie 5k Sponsors