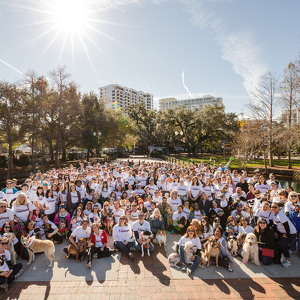 Disney Dogs
Our Team Fundraising Page
Join Disney Dogs!
As part of the Disney Dogs Pack team, hundreds of Disney VoluntEARS and their loved ones — pets included — walk each year in Paws in the Park. Paws in the Park is a fundraiser for Pet Alliance, and in fact, it's their largest fundraiser.
When you register as a walker, you are volunteering to join other Disney VoluntEARS in the Disney Dogs pack as we come out, enjoy the event, participate in the walk around Lake Eola, and support Pet Alliance of Greater Orlando. Friends, family, and well-behaved, leashed dogs are invited to join the fun, too! We will not be walking any dogs from Pet Alliance. Paws in the Park is a fun, family-oriented, outdoor festival. It is located at Lake Eola in downtown Orlando.
Participating in the fundraising efforts is voluntary, but we definitely welcome those who would like to. In the last 10 years, Disney Dogs has raised more than $150,000 for Pet Alliance of Greater Orlando. Last year was the 10th year in a row that Disney Dogs has won top fundraising pack and we're going for year number 11!
2020 was a ruff year, but the love of our pets definitely made the year better. In 2020, more than 5,100 homeless pets at Pet Alliance of Greater Orlando found their fur-ever home.
As we all know, many families struggled this year, and Pet Alliance works to make sure that no family will ever have to choose between feeding their pets or another important financial obligation. With the pandemic, came an increase need for help from Pet Alliance. In just one food distribution event in July, Pet Alliance distributed more than 15,000 pounds of food to more than 700 families – but still couldn't meet the need that day. Each week during the pandemic, Pet Alliance provides food for nearly 100 animals – in comparison to the 5- 10 animals a month they would typically help to feed.
We appreciate you as you join other animal lovers in Central Florida and beyond in these fundraising efforts to make a difference for the animals the families who love them.
$35 - provides vaccines and a microchip for one shelter dog

$50 - will feed 50 shelter pets for one day

$100 - sponsors a puppy or kitten in foster care

$350 - sponsors a shelter dog, including medical care, vaccines, food & shelter

$500 – spay/neuter surgery for five shelter pets
Benefiting:
Our Supporters
MELISSA DEVLIN

May 2021

Kevin & Pamela Beswick

May 2021

$26.00

Sari Rothrock

xoxo

May 2021

$26.00

Ashley Roth

May 2021

Jannette Montenegro

May 2021
Carrie Rice

April 2021

$300.00

Anonymous

May 2021

$106.03

Kelly Phillips

May 2021

$100.00

Anonymous

May 2021

$100.00

Leslie West

May 2021

$100.00